Replace A Timing Belt On A Single OHC Engine
by Isuru Gunatilake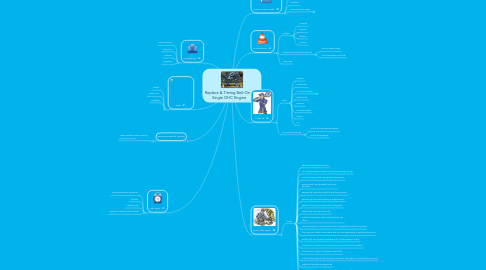 1. Workshop
1.1. Head machanic
1.2. Supervisor
1.3. Machanic
1.4. Apprentice
2. Order New Parts
2.1. Bursons
2.2. Wreckers
2.3. Order parts from ebay
2.3.1. Included
2.3.2. Excluded
3. Start the work
3.1. Steps
3.1.1. Remove crank pulley and cover
3.1.2. Turn crank sprocket clockwise until all timing marks line up
3.1.3. remove tensioner idler, timing belt and tensioner.
3.1.4. Remove Both cam sprockets and Crank sprockets
3.1.5. Remove left lower idler and both rear timing covers.
3.1.6. Remove right cam seal housing and replace seal.
3.1.7. Replace O-ring on camshaft refit housing back.
3.1.8. Replace left cam and crank seals
3.1.9. Install cam sprockets, slide crank sprockets and Idelars
3.1.10. Place timing belt on crank sprocket first lining dotted line with timing mark
3.1.11. Place top part of belt around idlers and over cam sprockets & lining the timing marks
3.1.12. Rotate right cam sprocket clockwise until it creates tension on top.
3.1.13. Leaves slack on bottom part so that lower part of belt can be installed.
3.1.14. Put tensioner in place and tighten screws little
3.1.15. Push tensioner toward idler using flat screwdriver and tighten mounting bolts to torque.
3.1.16. Tighten all the idlers and sprockets
3.1.17. Install timing covers & crank pulley and torque to correct tension
3.1.18. Put back the all the covers back
4. Job End
4.1. Recheck work with Supervisor
4.2. Test Run
4.3. Make job card
4.4. Explain to customer about the job
5. Limitations
5.1. Budget
5.1.1. Materials
5.1.2. Personel
5.1.3. Services
5.1.4. Duration
5.2. Required Time to finished the job
5.2.1. Time for deliver parts
5.2.2. How many works on the job
5.3. New node
6. Actions
6.1. Tools
6.1.1. Sockets
6.1.2. Screwdriver
6.1.3. 1\2 & 3\4 Ratchets
6.1.3.1. New node
6.1.4. Plastics Pipe
6.1.5. Hammer
6.1.6. Pb Blaster Spray
6.1.7. Grease
6.1.8. Air
6.2. Allocate the work task
6.2.1. Check the manufacture deatails
6.2.2. Chose the employer
7. PPE
7.1. Overall
7.2. Safety Shoe
7.3. Gogogles
8. Environmental issues
8.1. Adjest Use the correct Timmimg to correct emissins.