CRM
by Sofie Van Laeken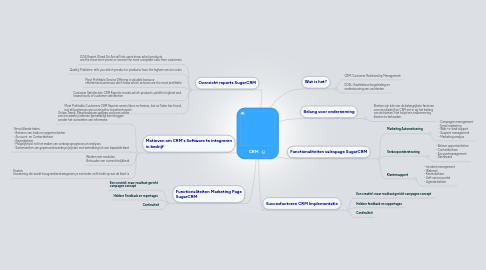 1. Wat is het?
1.1. CRM: Customer Relationship Management
1.2. DOEL: Kwalitatieve begeleiding en ondersteuning van uw klanten
2. Belang voor onderneming
2.1. Klanten zijn één van de belangrijkste factoren voor een bedrijf en CRM zet in op het belang van de klanten. Het helpt een onderneming klanten te behouden.
3. Functionaliteiten salespage SugarCRM
3.1. Marketing Automatisering
3.1.1. - Campagne management - Email marketing - Web-to-lead support - Suspect management - Marketing analyse
3.2. Verkoopsondersteuning
3.2.1. - Beheer opportuniteiten - Contactbeheer - Accountmanagement - Dashboard
3.3. Klantensupport
3.3.1. - Incident management - Webmail - Kennisbeheer - Self-service portal - Agenda beheer
4. Succesfactoren CRM Implementatie
4.1. Een creatief, maar resultaat gericht campagne concept
4.2. Heldere feedback en rapportages
4.3. Continuïteit
5. Functionaliteiten Marketing Page SugarCRM
5.1. Een creatief, maar resultaat gericht campagne concept
5.2. Heldere Feedback en reportages
5.3. Continuiteit
6. Overzicht reports SugarCRM
6.1. DOA Report (Dead On Arrival) lets users know which products are the most error-prone or receive the most complaint calls from customers
6.2. Quality Problems tells you which product or products have the highest service costs
6.3. Most Profitable Service Offering is valuable because oftentimes businesses don't know which services are the most profitable
6.4. Customer Satisfaction CRM Reports reveals which products yield the highest and lowest levels of customer satisfaction
6.5. Most Profitable Customers CRM Reports seems like a no-brainer, but as Taber has found, not all businesses are running this important report.
7. Motieven om CRM's Software te integreren in bedrijf
7.1. Online Trend: Meer bedrijven opteren voor een online service waarbij iedereen gemakkelijk kan inloggen zonder het overzetten van informatie
7.2. Verschillende taken: - Beheren van leads en opportuniteiten - Account- en Contactbeheer - Rayonbeheer - Mogelijkheid tot het maken van verkoopsprognoses en analyses - Samenstellen van gepersonaliseerde prijslijsten met betrekking tot een bepaalde klant
7.3. Werken met modules: Behouden van overzichtelijkheid
7.4. Kosten: Investering die wordt terugverdiend aangezien je een beter zicht hebt op wie de klant is