Practical Pragmatics
by kat sofia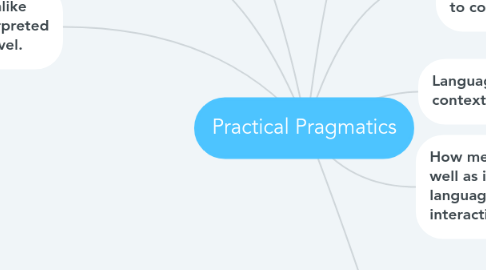 1. Pragmatic competence is essential for ELL proficiency.
2. Pragmatics are necessary for interpreting meaning in social interaction, as well as the ability to communicate.
3. Best Instructional Methods
3.1. Input Processing
3.1.1. Structured input with explicit metapragmatic information.
3.1.2. Structured input without explicit information.
3.2. Problem Solving Tasks
3.3. Skill Acquisition- Declarative knowledge/facts or information; basic knowledge stored in memory.
3.4. Repeated practice of the "rules" of use.
3.5. Practicing taking turns in conversation.
3.6. Instruction in pragmatics helps ELLs maintain their cultural identity and participate in their new language.
3.7. Make the classroom a safe, caring, creative place to practice.
3.7.1. Understand cultural differences such as eye contact, personal space, etc.
4. Language in use and the contexts in which it is used.
5. How meaning is constructed as well as implied meanings; language as an instrument of interaction.
6. Pragmatics allows learners to find socially appropriate language.
7. Pragmatic differences, unlike grammar errors, are interpreted on a social or personal level.
8. References- Freeman, D. E., &Freeman, Y. S. (2014). Essential linguistics: What teachers need to know to teach. Portsmouth, NH, NH: Heinemann. MeisterLabs. (n.d.). Online mind mapping and brainstorming. Retrieved January 06, 2020, from MindMeister: Online Mind Mapping and Brainstorming Morgan, Reynolds, Bardovi-Harlig, & Mahan-Taylor. (1991, January 01). Developing pragmatic awareness: Closing the conversation. Retrieved January 06, 2020, from https://academic.oup.com/eltj/article-abstract/45/1/4/2823740 Taguchi. (2011). Teaching pragmatics: Trends and issues. Annual Review of Applied Linguistics, 31, 289-310. doi:10.1017/s0267190511000018