How is technology changing the way that our students learn? How should this affect our teaching methods?
by Ben Kronick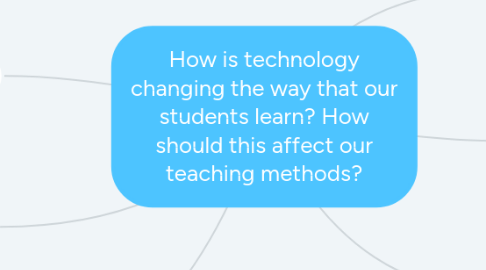 1. News/Current Events
1.1. Reliability of news sources
1.2. Fake News
1.3. Understanding Bias
1.4. Deciphering multiple sources to develop opinions
2. Social Media
2.1. Distraction from learning?
2.2. Mental health affecting learning?
3. collaboration
3.1. Using tools such as Google to collaborate
3.2. effective use of group chats
3.3. Access to information in and out of school hours
4. jobs of the future
4.1. Coding
4.2. marketing/advertising
4.3. collecting data and personal information
5. Algorithms Online
5.1. Understanding how advertising works
5.2. Understanding how news feeds operate based on algorithms
5.3. Becoming better consumers
5.4. Developing skepticism about what we see online
6. Cell Phones
6.1. distraction or tool for success?
6.2. Communication with parents?
6.2.1. Too much communication? Making students less inquisitive?
6.3. Access to google? Making students less inquisitive?