users' needs
by vijita singh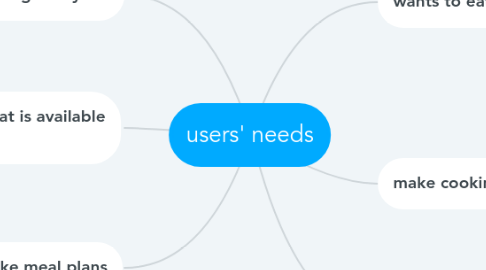 1. wants to eat healthy
1.1. home made cooking
1.2. follow proper diet
1.3. attach to the roots
1.4. take meals on proper time.
1.5. go for easy recepies in busy schedules.
1.6. do not eat frozen or junk food.
2. make cooking meals easy
2.1. cook book in kitchen
2.2. internet recepies vedios
2.3. Ask help from family members
3. want to remember grocery list
3.1. manually write them
3.2. use digital note making app
3.3. make list in online shopping cart
4. wants to know what is available in kitchen
4.1. check all pantry/referigerator by users
4.2. make list manually
4.3. monthly manual note and stick them at some place in kitchen to remember.
5. need help to make meal plans
5.1. make diet weekly/monthly diet chart
5.2. pay to nutritionist who can make meal plans for users .
5.3. take help of internet
6. want notification whenever required.
6.1. Through message/ email/ popup
6.2. Reminder alarm.
6.3. usercan ask some one to remind you personally.