Adults who meet the needs of babies, toddlers and young people
by Michaela Stokoe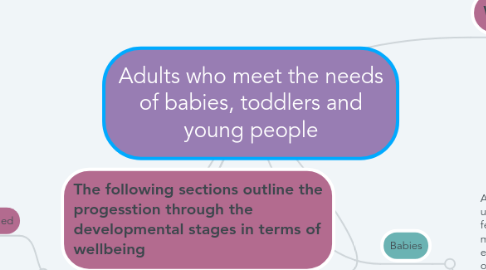 1. Young people
1.1. Adults should; support the child to make sensible choices about their own learning through planning and evaluation, solve problems and take time to discuss these together, support the child to recognise another point of view through co-operative play, recognise that each child has a different starting point, and praise and challenge the child's development.
2. Adults should; understand toddlers individual needs and preferences, be aware of how the toddler feels settled and secure, support the child in developing their awareness of emotions and support the toddler during change and transitions.
3. Toddlers
4. Babies
4.1. Adults should; respond to babies uncertainties when main caregiver leaves, feed baby in an unhurried and sensitive manner, include baby in conversations, encourage baby to move and interact with objects surrounding them, and provide physical support for the baby to stand and move.
5. Wellbeing
5.1. Practitioners should appreciate what young people need in terms of emotional, social and physical wellbeing in order to grow and learn.
5.2. Through this development children also develop their ability to self-regulate their emotions. The act outlines the following as necessary in developing the child's sense of self-regulation; providing predictable routines, modelling behaviour, supporting turn taking, becoming aware of the emotions of others, supporting students to become more independent.
6. The following sections outline the progesstion through the developmental stages in terms of wellbeing
6.1. Common Skills needed
6.1.1. To support wellbeing adults will need the following skills; understanding of policies, ability to build relationships with children and the adults in their lives, organising and planning, and be caring and supporting.