ADDIE Mind Map
by Mahira Spiteri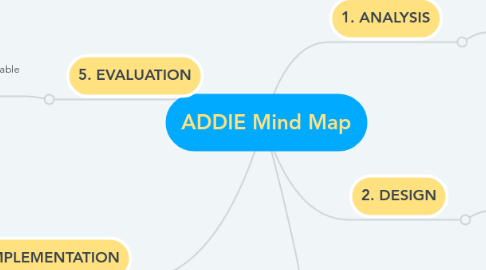 1. 1. ANALYSIS
1.1. Training needs and training plan
1.1.1. Ask to understand the current situation
1.1.1.1. Goal of training
2. 2. DESIGN
2.1. Overview of the course design/prototype
2.1.1. Strategy, delivery methods, structure, duration, assessment, feedback.
2.1.1.1. Blueprint of the courses/storyboards
3. 3. DEVELOPMENT
3.1. Course content
3.1.1. Create course from storyboard
3.1.1.1. Choose graphics, colours, fonts. Test for grammar, syntax and navigation.
4. 4. IMPLEMENTATION
4.1. The course is live on the LMS for learners
4.1.1. Upload course to an LMS and do a pilot test
4.1.1.1. Set up delivery options such as enrollment, time needed, pass marks, assessments and feedback collection.
5. 5. EVALUATION
5.1. Create an evaluation report and actionable changes for the current or future courses
5.1.1. Get feedback on every aspect of the courses by surveys
5.1.1.1. Questions to focus on the goals and if they've been achieved in the analysis phase. Identify training requirements and possible changes in the digital media used.