HUNGARY
by Thanakorn Kongphuthorn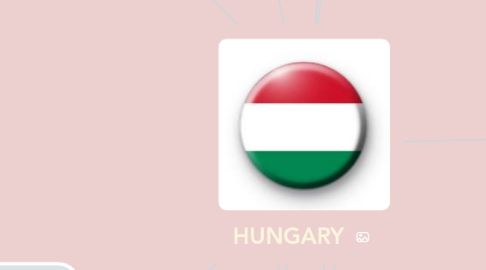 1. Food
1.1. Gulasch
1.1.1. Langose
1.1.1.1. Toltottkaposzta
2. Dessert
2.1. Stuffed Pancake
2.1.1. Gundel pancake
3. Travel
3.1. Széchenyi Chain Bridge
3.1.1. Hungarian Parliament
3.1.1.1. Fisherman's Bastion
4. About Hungary
4.1. Map
4.2. Hungary is among the top tourist destinations in Europe with the capital Budapest regarded as one of the most beautiful cities worldwide. Despite its relatively small size, the country is home to numerous World Heritage Sites, UNESCO Biosphere Reserves, the second largest thermal lake in the world (Lake Hévíz), the largest lake in Central Europe (Lake Balaton), and the largest natural grassland in Europe (Hortobágy).
5. Geography
5.1. Hungary is a landlocked country, situated in the Carpathian Basin. Its two longest rivers called Danube and Tisza divide Hungary into three parts: Transdanubia (to the west of the Danube), the plain between the Rivers Danube and Tisza, and the Trans-Tisza region (to the east of the Tisza). Hungary's 'mountains' are actually hills, which seldom exceed an elevation of 1,000 metres. Two-thirds of Hungary's geographic area is less than 200 metres above sea level.
5.1.1. Hingary
6. Basic information about Hungary
6.1. Official name: Hungary
6.1.1. Area: 93 022 km2
6.1.1.1. Population: 9,797,561 (2017)
6.1.2. Neighbouring countries: Austria, Slovakia, Ukraine, Romania, Serbia, Croatia, Slovenia
6.1.2.1. Official language: Hungarian
6.1.2.2. State form: Republic
6.1.2.3. Capital and largest city: Budapest
7. Climate and Weather
7.1. For many international students the Hungarian climate can be very different from that of their countries, as Hungary has four different seasons. Whilst summers are warm, winters can be really cold; average temperatures range from -4 °C in January to 26 °C in July.
7.1.1. Hungary is in the temperate zone and has a relatively dry continental climate. The country is protected from extreme weather conditions by the surrounding mountain ranges, the Alps and the Carpathians.
8. Caution
8.1. Do not fall with expensive jewelery to attract the eyes
8.1.1. Keep passports, cash and other valuables thoroughly.
8.1.1.1. When in a public community And general tourist attractions, use caution And if there is a group of people focusing on something unusual, don't come close to you to step away
8.1.1.1.1. If using a taxi Should use the company taxi which can call And calculated according to the meter If calling a taxi at a general sign Ask the price first and the receipt should be called every time.
9. Booking
9.1. Flight
9.1.1. Bkk
9.1.1.1. Hu
9.1.1.1.1. 16 Hours 25 minutes
9.2. Hotel
9.2.1. Corvin Plaza Apartments&Suites
9.2.1.1. K+K Opera Budapest
9.2.1.1.1. Stories Hotel Budapest
10. Budget
10.1. 135,000 Baht
10.1.1. ticket 23,000
10.2. Rent a car
10.2.1. 20,000
10.3. Food
10.3.1. 15,000
10.4. Travel
10.4.1. 25,000
10.5. Hotel
10.5.1. 20,000
10.6. Other
10.6.1. 32,000