Harnessing digitalization in the financial sector for the advancement of the SDGs
by Kemal Bajramovic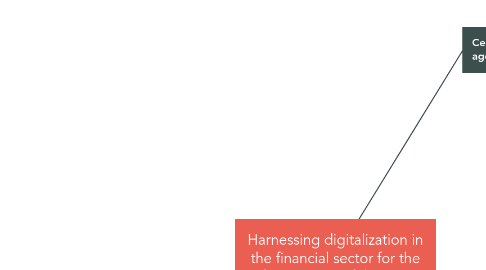 1. Central Bank, Banking Regulatory agencies of the entitites
1.1. Development of the Central bank's/Regulatory agencies approach/roadmap to the digital transformation in banking sector/FinTech development in BiH
1.1.1. Gain insight into available financial services and digital innovations by the banks and FinTech companies in Bosnia and Herzegovina
1.1.1.1. Stakeholder mapping
1.1.1.2. Issue mapping
1.1.1.3. ...
1.1.2. Development of support mechanism for digital innovations in the financial sector
1.1.2.1. Central Bank Innovation Hub
1.1.2.2. FinTech Regulatory Sandbox
1.1.2.3. Open banking and innovation roadmap
1.1.2.4. ...
1.1.3. Public consultations on the Discussion paper, feedback analysis
1.1.3.1. Action plan/project document for the actual implementation of the identified interventions
1.2. Assist the Central Bank BiH to join Network of Central Banks and Supervisors for Greening the Financial System (NGFS), Share&Learn best practices
1.2.1. Supervision workstream
1.2.2. Macrofinancial mesures workstream
1.2.3. Scaling up green finance workstream
1.3. Support supervision and regulation capacities of the Central Bank and Bank Regulatory Agencies
1.3.1. Suptech innovations
1.3.1.1. Utilize Innovation Hub and/or Regulatory sandboxes to innovate
1.3.1.2. ...
1.3.2. Regrech innovations
1.3.2.1. Utilize Innovation Hub and/or Regulatory sandboxes to innovate
1.3.2.2. ...
2. Banks, FinTech companies and Startups, Government entities
2.1. Support digital innovations for mobilizing financial resources for long-term investments
2.1.1. Identify and implement solutions to unlock greater mobilization and effective use of finance, especially in the support of the SDG)
2.1.1.1. Digital savings
2.1.1.2. Develop sustainable digital investments mechanisms, platforms
2.1.1.3. Regulating equity-based investments and blended investments (grant+equity) for the Fintech SMEs
2.1.1.4. Make it harder to avoid the payment of taxes
2.1.1.5. Launching a platform that helps SMEs compare different funding options
2.1.1.6. Digitalizing "green" bonds
2.1.1.7. ...
2.1.2. Sourcing data via Open banking to a) gain better insight into citizens' habits and b) develop innovative solutions
2.1.2.1. Transposition of relevant EU Directives to enable Open Banking in BiH
2.1.2.2. Help banks exposes its internal data and services to external parties in standardized and well-defined way
2.1.2.3. Helping FinTech companies onboard and consume APIs from the banks
2.1.2.4. ...