Derek Antoniazzi
by Derek Antoniazzi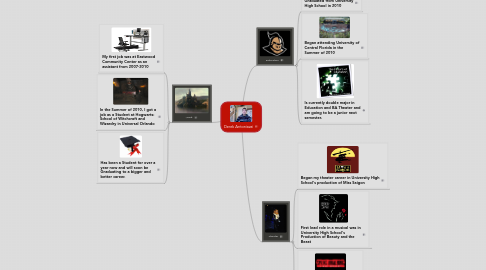 1. Work
1.1. My first job was at Eastwood Community Center as an assistant from 2007-2010
1.2. In the Summer of 2010, I got a job as a Student at Hogwarts: School of Witchcraft and Wizardry in Universal Orlando
1.3. Has been a Student for over a year now and will soon be Graduating to a bigger and better career.
2. Theater
2.1. Began my theater career in University High School's production of Miss Saigon
2.2. First lead role in a musical was in University High School's Production of Beauty and the Beast
2.3. Most recent production was the lead role of Adult Male in Garage Theater's Production of Spring Awakening
3. Education
3.1. Graduated from University High School in 2010
3.2. Began attending University of Central Florida in the Summer of 2010
3.3. Is currently double major in Education and BA Theater and am going to be a junior next semester.