Benefits of Music in Early Childhood Education
by Cristina Santiago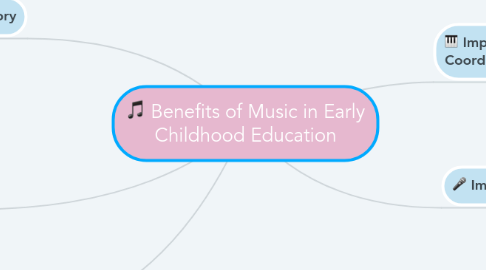 1. Improve Fine Motor Skills & Coordination
1.1. Learning how to play an instrument catches hand to eye and ear to hand coordination. The fine motor skills to alarm the music.
2. Improve Language Development
2.1. Singing, take up new lyrics demonstrate important sound process and comprehension. Children have a advantage in both educational and social settings.
3. Improve Focus and Memory
3.1. Both physical and mental recall when playing an instrument or listening to a song result of studying many times.
4. Improve Discipline and Teamwork
4.1. Daily music method teach children the value of hard work that leads into valid benefits.
5. Improve Self-Confidence & Self-Esteem
5.1. The amount of work the child put into they will see achievements and empowerment that lies on their hand. They benefits on developing the courage to stand up in front of an audience, helps in the real world.