CONNECTED EDUCATORS
by Leona Sedlaczek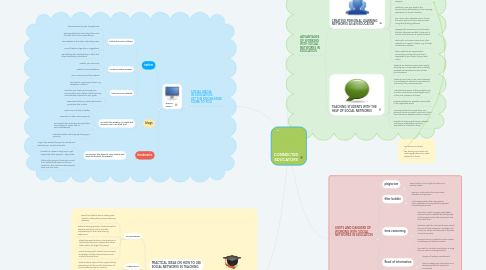 1. SOCIAL MEDIA IN EDUCATION: LET THE KNOWLEDGE COME TO YOU
1.1. DIGITAL TOOLS
1.1.1. twitter
1.1.1.1. follow the work of others
1.1.1.1.1. follow researchers you already know
1.1.1.1.2. get inspired by the users they follow and use their lists of recommendations
1.1.1.1.3. use retweets to find other interesting users
1.1.1.1.4. consult twitter's algorithmic suggestions
1.1.1.1.5. use hashtags like #followfriday or #ff to find other interesting contributors
1.1.1.2. create an active account
1.1.1.2.1. publish your own work
1.1.1.2.2. publish recommendations
1.1.1.2.3. be an active part of the network
1.1.1.3. fine-tune your network
1.1.1.3.1. use tools to regroup your feed, e.g. tweetdeck, hootsuit
1.1.1.3.2. declutter your feed: go through your subscriptions and unfollow those that may have became irrelevant to your goals
1.1.1.3.3. experiment with your subscriptions and reevaluate after a while
1.1.2. blogs
1.1.2.1. use tools like Blogline to create and organize your own blog feed
1.1.2.1.1. works very similiarly to twitter
1.1.2.1.2. subscribe to other users using RSS
1.1.2.1.3. use Blogroll tool to browse through other user's blogs (cf. twitter lists of recommendations)
1.1.2.1.4. intertwine twitter and blogs by linking your accounts
1.1.3. bookmarks
1.1.3.1. use services like Diigo to save, classify and share bookmarks (les signets)
1.1.3.1.1. "tags" (key words) allow you to classify and describe your saved bookmarks
1.1.3.1.2. browse the network using tags or get inspired by other people's "tag clouds"
1.1.3.1.3. follow other people's feed and consult their added bookmarks so that you profit from the results of other people's work and vice versa
2. ADVANTAGES OF WORKING WITH SOCIAL NETWORKS IN EDUCATION
2.1. CREATING PERSONAL LEARNING NETWORKS AS AN EDUCATOR
2.1.1. make information find you by taking part in social networks without having to specifically google for it
2.1.2. guide your independent learning objectives and your needs concerning professional development
2.1.3. gather and assemble valuable research and information by engaging with others on social platforms
2.1.4. keep updated within a fast changing field of study and current developments in research
2.1.5. profit from and give back to the community by participating in the ongoing discussions on social networks
2.1.6. learn from other educators from all over the world and profit from diverse ideas and global sharing platforms
2.1.7. engage with researchers and educators that you otherwise wouldn't have met or cannot meet because of spatial distance
2.1.8. share with and receive ideas from other educators on specific classes, e.g. through collaborative syllabus
2.1.9. there might be job opportunites, conventions and educational event proprosed to you thanks to your work online
2.2. TEACHING STUDENTS WITH THE HELP OF SOCIAL NETWORKS
2.2.1. students are likely to receive high-quality teaching from an educator who is making professional development part of their job description
2.2.2. students learn how to use social networks in a professional, structural way instead of only using it for private purposes
2.2.3. make students aware of their possible role as active contributors to the digital world of the past, present and future
2.2.4. prepare students for possible career paths in the digitalized world
2.2.5. motivate students to create their own personal learning networks and teach them how to become capable content curators
2.2.6. benefits of working with social networks and online collaboration tools are applicable to all fields of study
3. LIMITS AND DANGERS OF WORKING WITH SOCIAL NETWORKS IN EDUCATION
3.1. plagiarism
3.1.1. shared ideas online might be stolen and used by others
3.2. filter bubble
3.2.1. going in circles within the same ideas, research and opinions
3.2.2. not engaging with other approaches, ideas, opinions and only reproducing what has already been said
3.3. time-consuming
3.3.1. educators need to engage with digital tools and social networks that they might not know yet and be able to present and teach with them
3.3.2. students might be reluctant to learn about the use of social networks as it takes a lot of time to create and take part in this field of communication
3.3.3. personal learning networks need constant monitoring and content curation
3.3.4. the need for constant reevaluation is tiring and can result in feeling blocked
3.4. flood of information
3.4.1. danger of feeling overwhelmed
3.4.2. there is always new information and developments that need to be considered
3.5. pedagogical sense
3.5.1. using social networks must make sense within the pedagogical field and should not be simply used because of its digital character
4. SHARING IS CARING see sharing one's work and exchanging ideas as an asset instead of a threat
5. CONNECTED STUDENT
5.1. PRACTICAL IDEAS ON HOW TO USE SOCIAL NETWORKS IN TEACHING
5.1.1. SCAFFOLDING
5.1.1.1. teach the students about creating and content curating their personal learning networks
5.1.1.2. efficient learning process: students need to observe and also practice and take responsibility for their own learning experience
5.1.1.3. slowly decrease teacher's interferences so that student become independant action takers within the digital framework
5.1.1.4. critical thinking skills: teach how to acquire knowledge, handle internet sources and critically evaluate them
5.1.2. CYBER-SELFS
5.1.2.1. make students aware of their cyber-selfs by presenting it to them in the first session of the semester (as used in class by Weisgerber herself)
5.1.3. DIGITAL NATIVES
5.1.3.1. question the idea of digital nativism: what does it mean, how much do you have to know to be a digital native, do you consider yourself a digital native, etc.?
5.1.3.2. make students aware of their own use of digital tools in everyday life, e.g. by letting them create a digital diary
5.1.3.3. critically evaluate students' current state within digitalism and possible life and job requirements together with the students
5.1.3.4. learn how to strategically use digital tools and how to be enabled by them