CRANE
by Anna Chow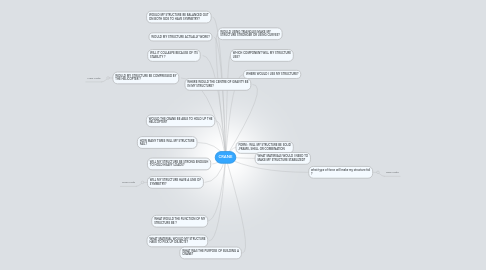 1. WHAT WOULD THE FUNCTION OF MY STRUCTURE BE ?
2. what type of force will make my structure fail ?
2.1. New node
3. FORM : WILL MY STRUCTURE BE SOLID ,FRAME, SHELL OR COMBINATION
4. WHAT MATERIALS WOULD I NEED TO MAKE MY STRUCTURE STABILIZED?
5. WHAT MATERIAL WOULD MY STRUCTURE HAVE TO PICK UP OBJECTS?
6. WHAT WAS THE PURPOSE OF BUILDING A CRANE?
7. WILL MY STRUCTURE HAVE A LINE OF SYMMETRY?
7.1. New node
8. WILL MY STRUCTURE BE STRONG ENOUGH TO HOLD HEAVY LOADS?
9. HOW MANY TIMES WILL MY STRUCTURE FAIL?
10. WOULD THE CRANE BE ABLE TO HOLD UP THE HELICOPTER?
11. WHERE WOULD THE CENTRE OF GRAVITY BE IN MY STRUCTURE?
12. WOULD MY STRUCTURE BE COMPRESSED BY THE HELICOPTER ?
12.1. New node
13. WILL IT COLLASPE BECAUSE OF ITS STABILITY ?
14. WOULD MY STRUCTURE ACTUALLY WORK?
15. WOULD MY STRUCTURE BE BALANCED OUT ON BOTH SIDE TO HAVE SYMMETRY?
16. WOULD USING TRIANGLES MAKE MY STRUCTURE STRONGER OR USING CURVES?
17. WHICH COMPONENT WILL MY STRUCTURE USE?
18. WHERE WOULD I USE MY STRUCTURE?