Delorean 9.19 Sprint 2
by Greziel Quiroz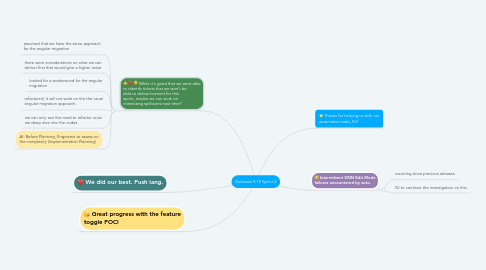 1. Thanks for helping us with our automation tasks, RJ!
2. While it's good that we were able to identify tickets that we won't be able to deliver/commit for this sprint, maybe we can work on minimizing spillovers next time?
2.1. assumed that we have the same approach for the angular migration
2.2. there were considerations on what we can deliver first that would give a higher value
2.3. looked for a workaround for the angular migration
2.4. refactored, it will not work on the the usual angular migration approach.
2.5. we can only see the need to refactor once we deep dive into the codes
2.6. AI: Before Planning, Engineers to assess on the complexity (Implementation Planning)
3. Intermittent DNN Edit Mode failures encountered by auto.
3.1. recurring since previous releases.
3.2. RJ to continue the investigation on this.
4. We did our best. Push lang.
5. Great progress with the feature toggle POC!