6 Different Types of Flooring You Need to Know
by Edythe J. Press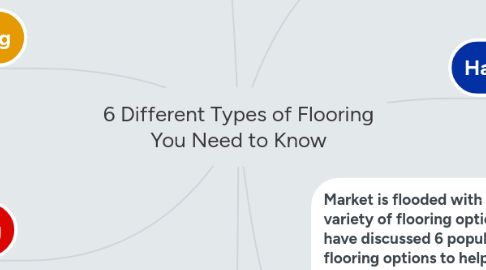 1. Laminate Flooring
1.1. It is a cost effective option.
1.2. It can be a replica of any flooring your desire to use in your home decor.
1.3. It is strong and resistant to stain and moisture.
2. Hardwood flooring
2.1. It is very easy to install and you can find comes in different patterns and textures.
2.2. This type of flooring is suitable in every areas other than the places where water usage is more.
3. Vinyl Flooring
3.1. They are highly cost effective.
3.2. They are durable, moisture resistant, cheap and are easy to maintain.
3.3. These tiles are also good for commercial purpose.
4. Carpet Flooring
4.1. Carpet flooring are easy to apply.
4.2. They are warm and soft and look good when they are new.
4.3. They come in different varieties like wool, nylon, polyester, acrylic etc.
5. Tile Flooring
5.1. This type is basically used for bathrooms and kitchen purpose.
5.2. They blend in with every decor and are in many colors to choose from.
5.3. Tiles do not scratch or dent easily.
6. Padding Flooring
6.1. his acts as a cushion between the concrete and laminated flooring.
6.2. This is used to increase the durability of the flooring.
6.3. Padding makes the flooring more sound resistant which is preferable in high traffic rooms.
7. Market is flooded with a wide variety of flooring options we have discussed 6 popular flooring options to help you make an informed decision.Explore different flooring stores in Sacramento to find a suitable flooring choice.