The Great Depression .
by Gaela Rondón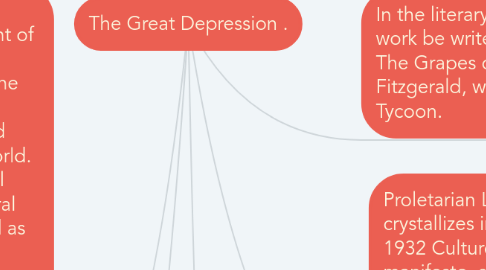 1. In the literary field,the great depression gave rise to some of the bets work be writers such as Jhon Steinbeck and his indispensable work The Grapes of Wrath, John Dos Passos and his USA or F Trilogy. Scott Fitzgerald, with the short story Babylon Revisited or the novel The Last Tycoon.
2. Proletarian Literature crystallizes in actions such as the 1932 Culture and Crisis manifesto, supported by 50 intellectuals, including the critic Edmund Wilson, the poet Langston Hughes and the writers Sherwood Anderson, Malcolm Cowley and John Dos Passosh
3. The depression brought about the peak of the crime novel, with exponents such as Dashiell Hammett and his hits Red Harvest or The Maltese Falcon; the escape novel, whose main reference is the southern drama of Gone with the Wind (Margaret Mitchell); the adventure film with King Kong and even paper superheroes like Superman or Batman, capable of saving America and the world from the abyss.
4. DRAMA AND EXOTIC ADVENTURES The society of the time also needed to forget the bitter moments it was experiencing. That is why novelists like Agatha Cristie and her brilliant detectives Hercule Poirot and Miss Marple enjoyed enormous popularity.
5. The cultural activity was supported by the Government of the Democrat Franklin D. Roosevelt. The president of the New Deal promoted multiple state agencies that generated employment in the artistic world. This is the case of the Federal Writers Project and the Federal Theatre Project, which served as the cradle for the playwrights Tennessee Williams and Arthur Miller. The crisis most significantly affected the most fragile link: immigrants, something that is evident in the novels Call it a Dream by Henry Roth and the trilogy Studs Lonigan by James T. Farrell.