Skiing Skiing is a means of transport using skis to glide on snow.
by светлана руденко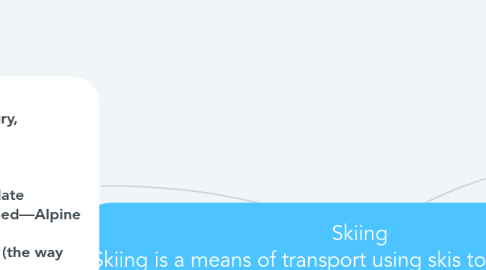 1. History Skiing was primarily used for transport until the mid-19th century, but since then has also become a recreation and sport. Military ski races were held in Norway during the 18th century,  and ski warfare was studied in the late 18th century. As equipment evolved and ski lifts were developed during the late 19th and early 20th centuries, two main genres of skiing emerged—Alpine (downhill) skiing  and Nordic skiing. The main difference between the two is the type of ski binding (the way in which the ski boots are attached to the skis).
2. Types Alpine- also called "downhill skiing", Alpine skiing typically takes place on a piste at a ski recort. It is characterized by fixed- heel bindings that attach at both the toe and the heel of the skier's boot. Nordic-the Nordic disciplines include cross-country skiing and  ski jumping, which both use bindings that attach at the toes of the skier's boots but not at the heels. Cross-country skiing may be practiced on groomed trails or in undeveloped backcountry  areas. Ski jumping is practiced in certain areas that are reserved exclusively for ski jumping. Telemark-telemark skiing is a ski turning technique and FIS-sanctioned discipline, which is named after the Telemark region of Norway. It uses equipment similar to Nordic skiing, where the ski bindings are attached only at the toes of the ski boots, allowing the skier's heel to be raised throughout the turn.
3. Equipment Skis  Boots and bindings Poles HElmets SKI suits Ski goggles Skiing gloves
4. Competition 1) Cross-country  – Encompasses a variety of formats for  cross-country skiing races over courses of varying lengths.  2)Ski jumping – Contested at the FIS Ski Jumping World Cup, the FIS Nordic World Ski Championships (odd-numbered years only), the FIS Ski Jumping Grand Prix, and the FIS Ski Flying World Championships. 3)Freeriding skiing – This category of skiing includes any practice of the sport on non-groomed terrain. 4) Nordic combined– A combination of cross-country skiing and ski jumping, this discipline is contested at the FIS Nordic Combined World Cup, the FIS Nordic World Ski Championships (odd-numbered years only), and at the Winter Olympics. 5) Alpine skiing – Includes downhill, slalom,  giant slalom,  super giant slalom  (super-G), and para-alpine events. 6) Speed skiing – Dating from 1898, with official records beginning in 1932 with an 89-mile-per-hour run by Leo Gasperi, this became an FIS discipline in the 1960s.