FAILURE TO THRIVE
by Leslie Brown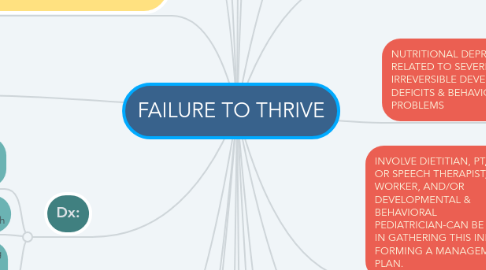 1. -problem, not a diagnosis. Failure to gain weight properly, growth deficiency, underlying causes:
1.1. insufficient usable nutrition
1.2. inadequate dietary energy intake
1.3. inadequate nutrient absorption
1.4. increased energy requirements
2. affects growing children
2.1. sever malnutrition can cause
2.1.1. persistent short stature
2.1.2. 2ndary immune deficiency
2.1.3. Perm. damage to various parts of brain&CNS
2.2. EARLY I.D. & TX OF FTT MAY HELP TO PREVENT LONG-TERM DEVELOPMENTAL DEFICITS
3. weight < 3rd% for age & sex ON MORE THAN ONE OCCASION
4. weight depressed in proportion to height
5. weight trajectory that DROPS & CROSSES 2 OR > MAJOR PERCENTILE LINES OVER TIME
6. daily weight gain < expected for age(newborn)
7. Dx:
7.1. child's weight < 2nd% for gestation-corrected for age&sex when plotted on appropriate growth chart
7.2. decreased velocity of weight gain / disproportionate to growth in length
7.2.1. take into account size @ birth
7.3. FTT not used to describe children growing along a curve w/ normal interval growth rate
7.3.1. even if weight is < 2nd %
8. MAP HEIGHT, WEIGHT, & HEAD CIRCUMFERENCE EVERY WELL CHILD VISIT!!
8.1. OVER TIME: CHANGES
8.1.1. in weight
8.1.2. length
8.1.3. head circumf.
8.1.4. May provide clues to etiology of diminished weight
9. determine FTT result from med. prob.(organic)/factors of environment(inorganic)=abuse/ neglect??
9.1. Most causes=non-organic or psychosocial in origin
10. NUTRITIONAL DEPRIVATION IS RELATED TO SEVERE IRREVERSIBLE DEVELOPMENTAL DEFICITS & BEHAVIOR PROBLEMS
11. Identify factors to be addressed
12. INVOLVE DIETITIAN, PT, OCC. OR SPEECH THERAPIST, SOCIAL WORKER, AND/OR DEVELOPMENTAL & BEHAVIORAL PEDIATRICIAN-CAN BE HELPFUL IN GATHERING THIS INFO. & FORMING A MANAGEMENT PLAN.
13. PE:
13.1. Attn: genetic disorders
13.2. organic disease
13.3. malnutrition(vit. deficiencies)
13.4. child abuse/neglect
14. valuable info thru observation of child & parent/guardian particularly during feeding
15. Lab/imaging
15.1. for organic disease should be guided by info from H&P exam
16. Remember:
16.1. most healthy infants/children grown in a predictable fashion=typical progression of wt/length/head circumf.
16.2. normal human growth is pulsatile
16.2.1. periods of rapid growth (growth spurts) separated by times of no measurable growth
16.2.2. growth is seasonal, w/ growth velocities increased during spring&summer months
17. Review growth velocity-wt.
17.1. newborns:gain approx. 30g/day until 3 months
17.2. infants:gain approx. 20g/day between 3-6 months & approx 10g/day between 6-12months.
17.3. infants double birth weight by 4 months age & triple birth weight by 1 year old
17.4. Weight gain in kids 2 & > gain approx. 2kg/year (4.4lbs) between 2 & puberty
18. Review linear growth velocity
18.1. 0-6mon= 1inch/month
18.2. 7-12mon=0.5inch/month
18.3. 12-24mon=usually >4inches/year
18.4. 24-36mon=3inches/year
18.5. 36-48mon=2.75inches/year
18.6. 4-10years=2 to2.4inches/year
19. REMEMBER
19.1. influence of maternal nutrition & intrauterine environment are reflected primarily in the growth parameters @ time of birth & during 1st month of life
19.2. genetic factors have a later influence