Suspensions and Expulsions in Early Childhood Education (ECE) Settings
by ann kelly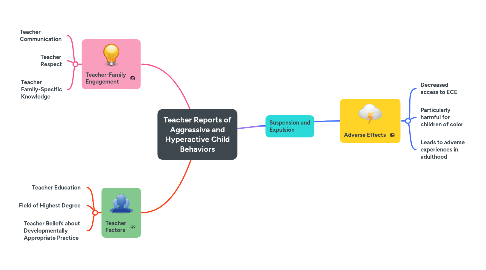 1. Potential Causes
1.1. Teacher Bias
1.1.1. Gilliam, W. S., Maupin, A. N., Reyes, C. R., Accavitti, M., & Shic, F. (2016). Do early educators' implicit biases regarding sex and race relate to behavior expectations and recommendations of preschool expulsions and suspensions. Yale University Child Study Center.
1.1.2. Neitzel, J. (2018). Research to practice: Understanding the role of implicit bias in early childhood disciplinary practices. Journal of Early Childhood Teacher Education, 39(3), 232-242. doi:10.1080/10901027.2018.1463322
1.2. Behavioral/Mental Health Issues
1.2.1. Friedman-Krauss, A. H., Raver, C. C., Morris, P. A., & Jones, S. M. (2014). The role of classroom-level child behavior problems in predicting preschool teacher stress and classroom emotional climate. Early Education and Development, 25(4), 530-552.
1.2.2. Wright, J. P., Morgan, M. A., Coyne, M. A., Beaver, K. M., & Barnes, J. C. (2014). Prior problem behavior accounts for the racial gap in school suspensions. Journal of Criminal Justice, 42(3), 257-266. Redirecting
1.3. Teacher Background/beliefs
1.3.1. Castle, S., Williamson, A. C., Young, E., Stubblefield, J., Laurin, D., & Pearce, N. (2016). Teacher–Child Interactions in Early Head Start Classrooms: Associations With Teacher Characteristics. Early Education & Development, 27(2), 259-274. https://doi.org/10.1080/10409289.2016.1102017
1.4. Adverse Childhood experiences
1.4.1. Zeng, S., Corr, C., O'Grady, C. and Guan, Y. (2019). Adverse childhood experiences and preschool suspension expulsion: A population study. Child Abuse & Neglect, 97, p.104149.
2. Policy
2.1. U.S. Departments of Health and Human Services, U.S. Department of Education Policy Statement on Expulsion and Suspension Policies in Early Childhood Settings.Retrieved from https://www2.ed.gov/policy/gen/guid/school-discipline/policy-statement-ece-expulsions-suspensions.pdf
2.2. Bassok, D. (2009). Three essays on early childhood education policy (Publication No. AAI3364495) [Doctoral dissertation, Stanford University] ProQuest Dissertations Publishing.
2.3. Garrity, S. M., Longstreth, S. L., & Linder, L. K. (2017). An examination of the quality of discipline policies in NAEYC-accredited early care and education programs. Topics in Early Childhood Special Education, 37(2), 94-106. doi:10.1177/0271121416672185
3. Detrimental Effects
3.1. Decreased access to ECE
3.1.1. Barnett, S., Carolan, M., & Johns, D. (2013). Equity and Excellence: African-American Children's Access to Quality Preschool. Center on Enhancing Early Learning Outcomes.
3.1.2. Bassok, D., & Galdo, E. (2016). Inequality in Preschool Quality? Community-Level Disparities in Access to High-Quality Learning Environments. Early Education and Development, 27(1), 128-144. https://doi.org/10.1080/10409289.2015.1057463
3.1.3. Gilliam, W. S. (2016). Early Childhood Expulsions and Suspensions Undermine Our Nation's Most Promising Agent of Opportunity and Social Justice. Moriah Group.
3.2. Particularly harmful for children of color
3.2.1. Goff, P. A., Jackson, M. C., Di Leone, B. A. L., Culotta, C. M., & DiTomasso, N. A. (2014). The essence of innocence: Consequences of dehumanizing Black children. Journal of Personality and Social Psychology, 106(4), 526-545. https://doi.org/10.1037/a0035663
3.2.2. Okonofua, J. A., & Eberhardt, J. L. (2015). Two strikes: Race and the disciplining of young students. Psychological science, 26(5), 617-624.
3.3. Leads to adverse experiences in adulthood
3.3.1. Wolf, K. C., & Kupchik, A. (2017). School suspensions and adverse experiences in adulthood. Justice Quarterly, 34(3), 407-430.
4. Potential Reduction Methods
4.1. Coaching/Professional Development
4.1.1. Bering, J. J. (2019). The Effects of a Teacher Coaching Model on the Number of Preschool Suspensions and Expulsions (Publication Number 13881207) [Doctoral Dissertation, Walden University) ProQuest Dissertations Publishing.
4.1.2. Garrity, S. M., & Longstreth, S. L. (2020, 2020/01/01). Using the Teaching and Guidance Policy Essentials Checklist to Develop Culturally and Linguistically Appropriate Behavior Guidance Policies. Early Childhood Education Journal, 48(1), 71-77. https://doi.org/10.1007/s10643-019-00978-w
4.2. Promoting Pro-Social Behavior and SEL
4.2.1. Gregory, A., & Fergus, E. (2017). Social and emotional learning and equity in school discipline. The Future of Children, 27(1), 117-136. doi:10.1353/foc.2017.0006
4.3. Mental/Emotional Supports
4.3.1. Brennan, E., Bradley, J., Allen, M., & Perry, D. (2008). The Evidence Base for Mental Health Consultation in Early Childhood Settings: Research Synthesis Addressing Staff and Program Outcomes. Early Education & Development, 19(6), 982-1022. https://doi.org/10.1080/10409280801975834
4.3.2. Gilliam, W. S., Maupin, A. N., & Reyes, C. R. (2016). Early childhood mental health consultation: Results of a statewide random-controlled evaluation. Journal of the American Academy of Child & Adolescent Psychiatry, 55(9), 754-761.
4.3.3. Perry, D., Dunne, M., McFadden, L., & Campbell, D. (2008). Reducing the Risk for Preschool Expulsion: Mental Health Consultation for Young Children with Challenging Behaviors. Journal of Child & Family Studies, 17(1), 44-54. https://doi.org/10.1007/s10826-007-9140-7
4.4. Increased Parent Engagement
4.4.1. Cooper, C. E. (2010). Family poverty, school-based parental involvement, and policy-focused protective factors in kindergarten. Early Childhood Research Quarterly, 25(4), 480-492. Redirecting
4.4.2. Zulauf, C. A., & Zinsser, K. M. (2019). Forestalling Preschool Expulsion: A Mixed-Method Exploration of the Potential Protective Role of Teachers' Perceptions of Parents. American Educational Research Journal, 56(6), 2189-2220. https://doi.org/10.3102/0002831219838236