Comparing the Pyramid all over the world
by
Shanta 211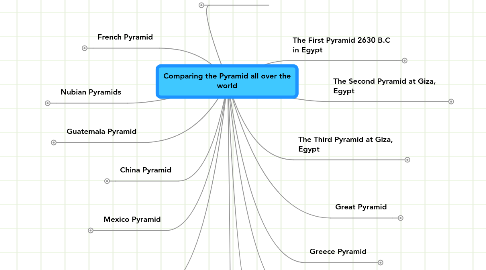 4.0
stars -
1
reviews range from
0
to
5
Comparing the Pyramid all over the world
The First Pyramid 2630 B.C in Egypt
The Second Pyramid at Giza, Egypt
The Bent Pyramid, located at the royal necropolis of Dahshur, approximately 40 kilometres south of Cairo, of Old kingdom Pharaoh Sneferu, is a unique example of early pyramid development in egypt. This was the second pyramid built by Sneferu.
The builder of the Bent Pyramid is thught to have been the Pharaoh Sneferu (2680-2565 BC), who was the first ruler of the 4th Dynasty. the Bent Pyramid is one of three (or maybe even four) pyramids built by the great Pharaoh Sneferu in Egypt's Old Kingdom., More information
The Third Pyramid at Giza, Egypt
Greece Pyramid
Bolivia Pyramid
Peru Pyramid
Rome Pyramid
Mexico Pyramid
China Pyramid
Guatemala Pyramid
Nubian Pyramids
French Pyramid
The Louvre Pyramid is a large glass and metal pyramid, surrounded by three smaller ones, in the courtyard of the Musee du Louvre Museum in Paris, France. The large pyramd serves as the main entrance to the museum. Completed in 1989, it has become a landmark for the ity of Paris.
The glass pyramid of the Louvre is a true symbol of Paris. the attention-grabbing lighting concept, which Claude Engle and ERCO designed almost 20 years ago, has now been updated with cutting-edge technology: Metal Halide lamps. Architect: Ieoh Ming Pei, New York. Lighting designer: Claude Engle
India Pyramid