Consulting by Julia
by Julia Zabrodska Akinci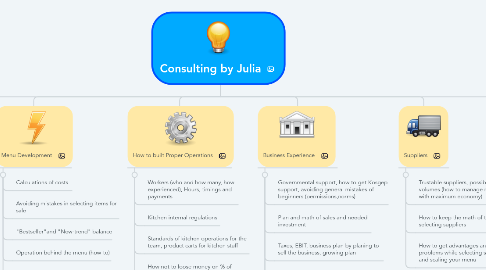 1. Planing the kitchen
1.1. Operation Plan
1.2. Logistics and plan of operations within the kitchen
1.3. Minimising production costs
1.4. Selecting longlasting trustable right team and stuff and what to do to avoid problems when they are leaving (how to say goodbye without tears and control the situation)
1.5. How to get first quality certification, standardisation of the kitchen with European standarts of ISO 9001:2015 and etc.
2. Menu Development
2.1. Calculations of costs
2.2. Avoiding mistakes in selecting items for sale
2.3. "Bestseller"and "New-trend" balance
2.4. Operation behind the menu (how-to)
2.5. Product development advises (recipe development)
3. How to built Proper Operations
3.1. Workers (who and how many, how experienced), Hours, timings and payments
3.2. Kitchen internal regulations
3.3. Standards of kitchen operations for the team, product carts for kitchen stuff
3.4. How not to loose money on % of wastes, calculating terms of products, Sales, Vitrine planing, costs
4. Business Experience
4.1. Governmental support, how to get Kosgep support, avoiding general mistakes of beginners (permissions,norms)
4.2. Plan and math of sales and needed investment
4.3. Taxes, EBIT, business plan by planing to sell the business, growing plan
4.4. Income expectations, stable income model (How to avoid looses, calculating of place, season balance, proportion of cost and price balance)
4.5. Return of investment (minimum scenario)
4.6. Communication with investors (what to avoid in the beginning to be ready for investment ) how does investor analyse your model
4.7. Legal advises, trademark protection
5. Suppliers
5.1. Trustable suppliers, possible mistakes, volumes (how to manage minimum cost with maximum economy)
5.2. How to keep the math of the kitchen by selecting suppliers
5.3. How to get advantages and to avoid problems while selecting suppliers and scaling your menu
6. Marketing
6.1. How to avoid being "the same"
6.2. Difference between popularity and income
6.3. Selecting "my main client", target group and scaling into income model
6.4. What is my marker place? Who am I?