Sports I played in Highschool
by Kylie Winchell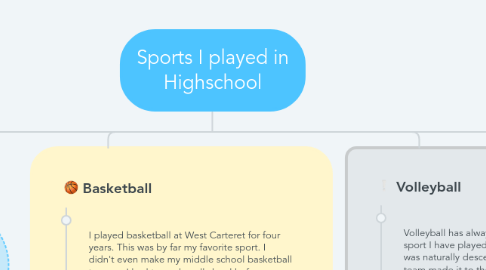 1. Softball
1.1. I played softball at West Carteret for three years. I made the Varsity team as a freshman and it was a lot of fun. I eventually had to stop playing my senior year and focus on the sport I wanted to play in college.
1.1.1. Even though I had to stop playing for my school team I would still practice off and on because I didn't want to stop playing for good.
2. Track
2.1. In high school I was never on the track team but I would always go run at the practices. It kept my busy and it also kept me in shape for my other sports.
2.1.1. Our track team was also very good and most of the students who ran, now go to UNC, ECU, and Western Carolina.
3. Basketball
3.1. I played basketball at West Carteret for four years. This was by far my favorite sport. I didn't even make my middle school basketball team so I had to work really hard before my freshman year to get better. Not only was I able to get better but the Varsity team let me practice with them a lot and also pulled me up to be on the team when they went to playoffs.
3.1.1. I got many awards through out the four years like; News Time Player of the Year, and Conference Champions in 2013-2014, 2014-2015, and 2016-2017. I got a lot of other awards when we went to tournaments like best defense and most blocks.
4. Volleyball
4.1. Volleyball has always been the most fun sport I have played. It was so intense but I was naturally descent at it. My high school team made it to the playoffs every single year. We came so close to making it to finals by one round. I will never forget those memories. I never would've thought I would go to college to play volleyball either because I never took it serious until my junior year.
4.1.1. Now that I play at St. Andrews I absolutely love it. I am glad that I have the opportunity to do something I love along with school.