Latinidad and Technology Communication/Social Media/Business
by liliana rosas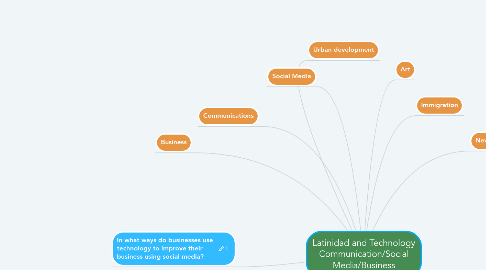 1. How does technology and communications befit us today?
2. Does today's technology effect the ways we communicate with newer business vs older business?
3. How does our country or other countries use social media to communicate beneficially?
4. What is the best way to communicate nationally/ internationally?
5. How is social media beneficial to families near and far?
6. In what ways do businesses use technology to improve their business using social media?
7. In what ways has communicating through technology had an impact on Latin/x communities? Good or Bad?
8. Who's in charge of what communications are used in international businesses?
9. Business
10. Communications
11. Social Media
12. Urban development
13. Immigration
14. Art
15. News
16. Do businesses in Latin/x communities benefit the same way some do other places?
17. Ds the newer generations have a better opportunity in businesses when it comes to technology and communication?