PBL CASE 1: AYMAN THE SWIMMER
by Eithar I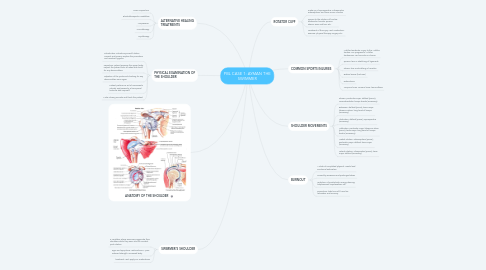 1. COMMON SPORTS INJURIES
1.1. Achilles tendonitis: injury to the Achilles tendon, can progress to Achilles tendonosis, can be acute or chronic
1.2. Sprains: tear or stretching of ligaments
1.3. Strains: tear or stretching of muscles
1.4. Broken bones (fractures)
1.5. Dislocations
1.6. Jumper's knee, runner's knee, tennis elbow
2. SHOULDER MOVEMENTS
2.1. Flexion: pectoralis major, deltoid (prime); coracobrachialis, biceps brachii (accessory)
2.2. Extension: deltoid (prime); teres major, latissimus dorsi, long head of biceps (accessory)
2.3. Abduction: deltoid (prime); supraspinatus (accessory)
2.4. Adduction: pectoralis major, latissimus dorsi (prime); teres major, long head of triceps brachii (accessory)
2.5. Medial rotation: subscapularis (prime); pectoralis major, deltoid, teres major (accessory)
2.6. Lateral rotation: infraspinatus (prime); teres major, deltoid (accessory)
3. PHYSICAL EXAMINATION OF THE SHOULDER
3.1. Introduction: introduce yourself, obtain consent and privacy, explain the procedure and maintain hygiene
3.2. Inspection: patient exposes the upper body, inspect the patient from all sides and check for any abnormalities
3.3. Palpation of the joints and checking for any abnormalities once again
3.4. Patient performs a set of movements actively and passively; a few special tests are also required
3.5. Make closing remarks and thank the patient
4. ANATOMY OF THE SHOULDER
5. ROTATOR CUFF
5.1. made up of supraspinatus, infraspinatus, subscapularis, and trees minor muscles
5.2. injuries to the rotator cuff can be: tendionitis, bursitis, sprains, strains, wear and tear, etc.
5.3. Treatment of the injury: rest, medication, exercise, physical therapy, surgery, etc.
6. ALTERNATIVE HEALING TREATMENTS
6.1. Laser acupunture
6.2. Electrotherapeutic modalities
6.3. Acupressure
6.4. Aromatherapy
6.5. Cryotherapy
7. SWIMMER'S SHOULDER
7.1. a condition where swimmers aggravate their shoulders while they swim due to constant joint rotation
7.2. signs and symptoms: reduced ROM, pain, reduced strength, increased laxity
7.3. treatment: rest, apply ice, medications
8. BURNOUT
8.1. A state of completed physical, mental and emotional exhaustion
8.2. caused by excessive and prolonged stress
8.3. reduction of productivity, energy draining, helplessness, hopelessness, etc.
8.4. prevention: take time off, have fun, relaxation and recovery