College and Career Readiness for High School Students
by Mackenzie Carver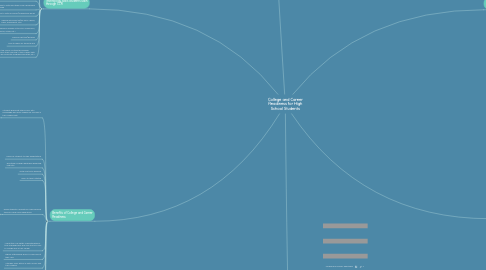 1. Digital learning in the classroom as it connects to CCR
1.1. https://encrypted-tbn0.gstatic.com/images?q=tbn:ANd9GcRajmvgSPuRa0DTZq7ApDRIeitcWXFp4WD64ZyzoFYwNtzUG58-HA&s
1.2. Digital testing requires digital learning so students become comfortable with the technology
1.3. School leaders must prioritize investments in teaching, learning, and assessment
1.4. Cost saving because programs are moving online
1.5. Common core is changing, so teachers must change their approach
1.6. Digital learning as a source
1.7. Being flexible with use of technology in learning
1.8. Long range planning can be put in place with apps such as Google Classroom
1.9. Addressing the need for students to complete assignments/create content with technology
1.10. PARCC (Partnership for the Assessment of College and Career Readiness)
1.11. Because everything is becoming digitalized, it is unrealistic for teachers not to incorporate technology
1.12. Without learning technology skills, students will be behind upon graduation
1.13. Technology in Education: A Future Classroom
2. Benefits of College and Career Readiness
2.1. Students graduate high school with knowledge and skills needed for success in their career path
2.1.1. https://pbs.twimg.com/media/BpAZOvnCAAAkGNG.jpg
2.1.2. https://lh6.googleusercontent.com/KEDK-IMFQ-NllYQ_Q8iYP7Gy5GIbOkrbyIEmEz_nhl3Y5eQiU5ZWAn9qqjTzIAA8qU849BpTCoV2nvjPBddKJZ0556nVadY5q6TEcuHZrqJuWBP1mbywFi1vB0kp5Gg0IQ
2.2. Holds all students to high expectations
2.3. Emotional college readiness regarding maturity
2.4. Social soft skills develop
2.5. Learn to take initiative
2.6. Helps students compete for jobs because they will have more experience
2.6.1. https://i.pinimg.com/originals/44/72/b7/4472b7a3972a79648f1fd620f486adfa.jpg
2.7. Acquisition of a better understanding of time management and how that will look in college and in their career
2.8. Higher attendance levels in class and at their jobs
2.9. Stronger work ethics in both school and their careers
2.10. Different transactional supports will be learned and be applied to different platforms throughout their academic career and throughout their time in the work force
2.11. Overall higher success in life
2.12. https://i.pinimg.com/originals/6d/58/99/6d5899d11e0b778ff25d5029e10d9d51.jpg
3. Technology Skills Students Gain through CCR
3.1. https://encrypted-tbn0.gstatic.com/images?q=tbn:ANd9GcSdHCj3FKsHgz1EFBAJS0tD9jvZem8NrgmirCvc1R-iyE90pFyq&s
3.2. Phone and computer app usage such as Quizlet
3.3. Learn how to write appropriate college and job applications
3.4. How to write and type a well-developed essay
3.5. How to write a formal/professional email
3.6. General Microsoft Office Skills (Word, Excel, Powerpoint, etc.)
3.7. General Google Suite Skills (Classroom, Drive, Slides, etc.)
3.8. Resume Writing/Building
3.9. How to apply for financial aid
3.10. Learn the use of multiple technology programs they may use in their career path (such as computer programming sites, etc.)
4. Issues that may arise with College and Career Readiness
4.1. The definition of college and career readiness is often not entirely clear
4.2. Some may argue the teaching of soft skills takes focus away from the core content
4.3. Students must put in the effort to get the most out of the program
4.4. Poor methods of testing whether students qualify (standardized testing)
4.5. Qualifications such as creativity, which may be valuable to the student's pathway, may be overlooked
4.6. Schools may not have the capability of providing students with their choice career pathway
4.7. Some CCR programs in high schools are not taken seriously by the school board, and lack what students need to succeed in the program.
4.8. The programs must be individualized, so it requires lots of collaborative planning from teachers and students
4.9. The availability of CCR programs in school varies across the country
4.10. Schools need extra funding in order to provide some CCR services
4.11. Misinformation that students cannot be one or the other; that they must have both to receive recognition
4.12. Colleges and universities are cutting CTE (career and technical education) majors due to a decrease in desire for those teaching careers.
4.12.1. https://ccrscenter.org/sites/default/files/CTEInfographic.JPG
4.12.2. https://ctepolicywatch.typepad.com/.a/6a01a3fd3add86970b01b8d1216201970c-800wi
5. What is College and Career Readiness?
5.1. https://i.pinimg.com/736x/52/b4/86/52b4862542aaa5450e70bfae004f6250.jpg
5.2. Program that provides students with the help and resources needed to ensure that their postsecondary opportunities are maximized
5.2.1. https://image.slidesharecdn.com/career-and-college-readiness-160213033837/95/career-and-college-readiness-1-638.jpg?cb=1455334744
5.3. Schools may set aside specific time for these readiness skills to be taught
5.4. It is meant to facilitate the shift from high school into the "real world"
5.5. It encourages students to plan for the future
5.6. It introduces students to their career possibilities so that they will be better prepared to make their decision
5.6.1. Discover Your College and Career Pathway
5.7. Includes involvement in clubs/organizations
5.7.1. https://sites.google.com/a/teachers.kusd.edu/patricia-bytnar-s-ctec-growth-portfolio/_/rsrc/1405494853830/ctec-growth-portfolio/knowing-and-promoting-cte-co-curricular-student-organizations/Alliance-TheAdvocate-CTSOs.png
5.8. Freshman Year
5.8.1. Get involved in extra curriculars (sports and clubs)
5.8.2. Enroll in college prep classes
5.8.3. Take college entrance exam practice tests
5.9. Sophomore Year
5.9.1. Volunteer in your community
5.9.2. Attend college fairs
5.9.3. Familiarize yourself with college admission requirements
5.10. Junior year
5.10.1. Explore career options
5.10.2. Create a resume
5.10.3. Start searching for colleges that peak interest
5.11. Senior Year
5.11.1. Start visiting colleges
5.11.2. Take the ACT/SAT
5.11.3. Apply for admissions
5.11.4. Apply for scholarships
5.12. How to demonstrate college and career readiness: Guy Romero at TEDxTemecula
6. References
6.1. College and Career Readiness
6.2. What Exactly is College Readiness and Why Does It Matter?
6.3. College and Career Readiness: Success Through Technology
6.4. College and Career Ready: Preparing Students With the Skills They Need to Succeed
6.5. https://www.setda.org/master/wp-content/uploads/2013/09/SETDA_TechnologyReadinessCollege.pdf
6.6. College- and Career-Ready Standards | U.S. Department of Education
6.7. College Readiness Lacking in New York City Schools | PublicSchoolReview.com
6.8. http://programs.ccsso.org/projects/Membership_Meetings/APF/documents/Defining_College_Career_Readiness.pdf
6.9. The Argument: Pros & Cons
6.10. Implementation Tools | College and Career Readiness and Success Center
6.11. Career Readiness & Employability from Pearson
6.12. Why College and Career Readiness is an Integral Component of K-12 Education | Hanover Research
6.13. https://www.nbea.org/newsite/member/documents/NBEACollegeandCareerReadinessFlyer.pdf
6.14. A Complete College Prep Checklist: High School Junior Year - The Scholarship System