most memorable o-week event ever UQ SUPER HAPPY FUN TIME OWEEK EVENT :D
by
Matt Salmon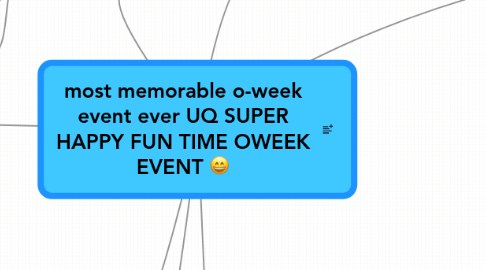 0.0
stars -
0
reviews range from
0
to
5
most memorable o-week event ever UQ SUPER HAPPY FUN TIME OWEEK EVENT :D
Colour Code: GREEN = DONE ORANGE = HELP  
Website
Help menu
Emergency contacts.
Security.
Heads of department
Photography Challenge
Get everyone to take photos of the whole experience to submit to the website.
Photo gallery for post event photos.
DESIGN THE SITE.
Sign Up
Mobile phone number
Email
Interesting fact
Program enrolled
Name
Submit, adds to xml
Survey
What type of mobile phone do you have?
Do you have a camera?
Does you're phone have email?
Provide Information
Terms and Conidtions.
People to contact.
Helpful websites., UQConnect, AskIT, Student Helpdesk, Student Services (Union), News Groups, eLearning@UQ
What you're participating in!
Stuff to bring, ITS Login Information, Clip Board, Pen, Camera, Mobile Phone
SMS System
Import phone numbers and details from website.
Allocate groups
Respond to answers.
Respond to calls for help.
Start the event.
Push out random tasks.
Export status's for tracking systems.
track them receive or not the sms
send YES/OK
Design some menu on the phone:OK, Required them to download some application
Phsyical Stuff
Printed clue, hint, answer posters.
Library props
DVD Cases
Book sculpture
piece
Progress board
A4 Size to each group monitor their progress throughout the activity
crossword template
Identifier
Participant
Group
Staff/Volunteer
Chaos
Original Meeting Point (An oval or large congregation area?)
Playing Field 4
Information Presented, Whoever is overseeing the process welcomes everyone and provides in vital last minute information., Helpers are on hand to give out group specific material such as identifieres.
Interesting Fact Distribution, Sending a word randomly to each participant, each of them need to find other person who also got the same words.
Form Groups, Group Color Coding or Identifiers, First Hint Distributed, Groups Embark on Experience
Should Forming of Groups Fail, Distribute SMS to each participant advising their group colour., Students meet at Identifier station, pickup their identifiers and get to know each other., Should Group making still fail, A. throw in lake, B. Tie together with rope...then throw in lake, Groups Embark on Experience.
START LOCATION:Playing Field 4
Connect to people on location
Find a particular person to get a game clue
Multiple crossword words make up keywords for library catalog search.
NODE1
Sir James Foots - 47A, Receive SMS, Go to Sir James Foots., 6 Down: Your word is repeated 7 times in the video playing. When complete reply with the word., At building there are TV's with a video playing., Watch the video., We create our own video, most likely by just splicing in previously existing footage, Pay attention to all the words in the video and pick the one that is said 7 times., SMS in the answer., ANSWER IS: ubiquitous, System Responds, Incorrect. > Hint, Correct > Next Piece.
GP South - 78, Receive SMS, Go to Hawken Building, 7 Across: Your word is scattered at important locations. Hint: Something. When complete reply with the word., At GPSOUTH building there are large letters on places of interest to students., Find all the letters, Put the letters together in the right order to form the word., SMS in the answer., ANSWER IS: circuit, C.I.R.C.U.I.T, 7 location, System Responds, Incorrect, please Try again. > Hint, Correct > Next Piece., Places, 6, Front Office, directory holder board, noticeboard close to the office, Level 2, 7, General Purpose Lab-122, Display monitor, display a letter on the tv, Noticeboard, 1, SELS- 213, door label holder, 2, noticeboard (tag), Ralf office- 615, Level 6, 3, noticeboard (tag), kathy office-204C, Level 2, Peter office-628, 4, level 1, noticeboard, Assignment box/drawer, 5, Foyer, Noticeboard (tag), 4, Peter Robinson office-316, Level 3, noticeboard in front of 316 office
Dorothy Hill Physical Sciences & Engineering - 50, Find shelves with IT & MM related books/sources, put a props on the shelves, Code to show up on the system, Using library, catalog search, Hire & Return, Using/hire/book audio visual equipment to play a DVD/CD/Digital media sources, book/hire study space & laptop, Direct participant to a particular study room or study space, Get a clue direct them to the shelves, Photocopying, Receive SMS, Go to the Dorothy Hill Physical Science & Engineering Library in Hawken Building., 8 Across: Your word is trapped in a DVD case in the library. Free it by using the catalog to find the DVD case! If you get lost try asking one of the friendly library staff for help., In the library there is a DVD case that has been cataloged and placed on a shelf., Find the dvd case., Decipher Jigsaw Puzzle., SMS in the answer., ANSWER: resources, System Responds., Incorrect. > Hint, Correct > Next Piece., Borrow the DVD case., Return through chute, flip card concept, each card contain words, find all card, each flip card need to be bar coded, to avoid participant bring in out of the library, bar code can be sensored at the entrance of the library., same concept with some material in the library can't be borrowed, card design: mimic height and weight of the book. on the hard paper., Library staf/volunteer/person need to make sure the card was on location to avoid a group sabotage., Card will be located at it/multimedia related shelves.
NODE3
Uq Connect - 21 C, Recieve SMS, Find UQ Connect downstairs in the Union Complex. Here you can buy internet Quota. There are pictures, find the common theme amoungst theme., SMS in the answer, System responds, Right Next Piece, Wrong Try Again
Union, Eating facilities, Pizza, Bakery, Main Refrectory, Mr. Bean coffee, Gelatis, Sushi & Noodle Bar, Pharmacies, Schonell Theatre, IT & Mac stuff shop, Printing&Photocopy shop, Bicycle shop, Commanwealth Bank, Bookshop, Dentist, Travel agent, Student support services, Lollyshop, Hair Saloon, Gift shop
NODE2
Student Center - 61, Receive SMS, Go to Student Center, 7 Down: Find the right word in the word search. Topic "Well, it isn't hard"., There is a wordsearch poster in the window., Check the Wordsearch, SMS in the answer., ANSWER IS: software, System Responds., Incorrect. > Hint, Correct > Next Piece.
Social Sciences - 2, Newsgroups, Receive SMS, Login to any computer, Put word on the newsgroup, High-Use multimedia, video clue, real DVD, Create our own video, Put a words or clue inside the video, Need to hire equipment to watch is on, Student ID Cards, Photocopier centre, Ask I.T, About the Newsgroups
Steele Building, Receive SMS, Go to Hawken Building and find the Riddle Poster, Riddle Games, Figure out the answer to the riddles, SMS in the answer., System Responds, Incorrect > Hint, Correct > Next Riddle/Piece.
Game element
Crossword Puzzle
Scavenger hunt
Australia day scavenger hunt page
Race through streets at UQ and collect the clue
website link to specific page to get the answer
Find things at a listed location
Photo puzzle
Team Building
Autograph Bingo Game, ice breaker that asks people to mingle and find people that match interesting facts on a bingo card.
Global game:inspiration
Akoha.com, Social reality based game, Passing card/gift/clue/answer?
Amazing race, Reading Map, Find places, Collect things, Final point
Clue design
Digital Printed, Ring words
Code, number/barcode/QR
Artefact
Audio Visual, Video/recorded mode, Live telecast?
Questions
Responds
Encouraging, correct, Well done with the following instruction message, Incorrect, Send a next piece/instruction to go forward
Judging, Correct, Incorrect/Please try again
Reward
More correct answer
Faster and correct answer
Dependent on which location they got the correct answer, Different prizes/gift from the location
Progress Board
Loads group info via XML...each time the group sms in a correct answer their group score goes up...the xml is reloaded and updated visually
Handout to each group to carry on along during the activity
Crossword puzzle template
Activity map, Map switching
Challenge
Knowing staff
seek and find
using website
using services
Find information from the UQ website
Find information from a school website
Future
newsgroup
greeting in each group created
explain about what that newsgroup for
No newsgroup, Studio 1- Visual Thinking:ienv1301, Discrete Mathematics:math7861
suggestion, newsgroup for elective(in general), uq.itee.elective
Newsgroup
1st semester
uq.itee.mmds1400
uq.itee.csse1001
uq.itee.mmds1311
math-??