Monthly Digest Article
by Peter Ostroskie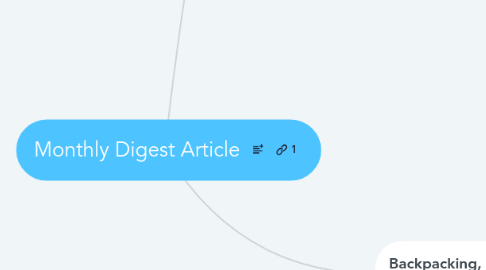 1. What is Interpretation?
1.1. Tilden definition
1.2. Outdoor Educator
1.3. Used a metaphor of building
1.3.1. Process in which we use as educators
2. Backpacking, how to do it and what to know!
2.1. Ten essentials
2.1.1. 10 Essentials 1. Backpack with waist straps 2. Sun Protection a. Sunscreen b. Lip balm c. Hat/sunglasses 3. Insulation a. Jacket, vest, pants, gloves, hat (see clothing) b. Sleeping bag and pad 4. Illumination a. Headlamp or flashlight b. Extra batteries 5. First-Aid Basic Care Supplies a. Antiseptic wipes b. Assorted adhesive bandages (fabric preferred) c. Blister treatment (moleskin) d. Splinter (fine-point) tweezers e. Ibuprofen/pain-relief medication f. Antihistamine to treat allergic reactions g. Prescription medications (inhalers, epinephrine, etc.) h. Hand sanitize 6. Fire a. Matches or lighter b. Waterproof container 7. Repair Kit and Tools a. Knife or multi-tool b. Repair kits for stove, mattress; duct tape strips 8. Nutrition a. Camp kitchen (see below) b. Sufficient food for entire trip 9. Hydration a. Water bottles or hydration reservoirs (we recommend 2 liters) b. Water filter or other treatment system 10. Shelter a. Tent, tarp, bivy or reflective blanket
2.2. Start easy
2.2.1. Begin with Day hikes in local parks to build stamina
2.2.2. Plan a single over night trip
2.2.3. Visit a outdoor retailer to get a backpack fitted.
2.2.4. never use footwear that isn't broken in
2.3. Groups are great
2.3.1. Never hike along
2.3.2. Different ways to get connected
2.4. Programs
2.4.1. California State Parks Backpacking adventure
2.4.2. Local retailers
2.5. What can backpacking teach?
2.5.1. Importance of packing what you need
2.5.2. Confidence
2.5.3. Leave no trace
2.5.4. self reliance
2.6. Theme Statements
2.6.1. Backpacking seems scary, but in reality, it's just putting one foot in front of the other.
2.6.2. Being afraid can sometimes lead to completing our biggest accomplishments.
2.6.3. Your feet hurt, your back is sore, but if you don't keep stepping you'll never know enigmatic joy of seeing the unknown.
2.6.4. Taming your fear can sometimes start with just a walk in a park.
2.6.5. Following the footsteps of others, discover the unknown world of backpacking.