Beth is an occupational therapy student in the 11th week of her 1st Level II Fieldwork. She has a full caseload of her own that she is responsible for on a daily basis. Her fieldwork educator, Corinne, has a few patients that she sees on her own, without Beth in the room. At the end of the day, Corinne states that she has to leave early that day and asks Beth to write all the treatment notes, even for those clients that Beth did not see.
by Taylor Carlton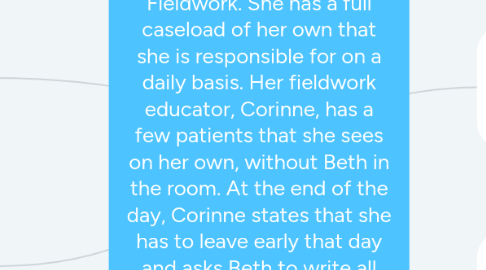 1. Offer to do other activities so that Corinne can leave early like cleaning the work space or picking up extra evaluations or treatments
1.1. Veracity
2. Tell Corinne that you are not comfortable with writing the treatment notes for that day due to it being unethical to bill patients and make assessments on patients you didn't see
2.1. non maleficence and veracity
3. Do a new evaluation on the patients so that you can make valid observations and assessments on them.
3.1. non maleficence, veracity and beneficence
4. Talk to your fieldwork coordinator and ask about what the proper thing to do in this situation is.
4.1. Veracity and fidelity