It Starts at the Top: Standards for Accreditation
by Lisa Tafuro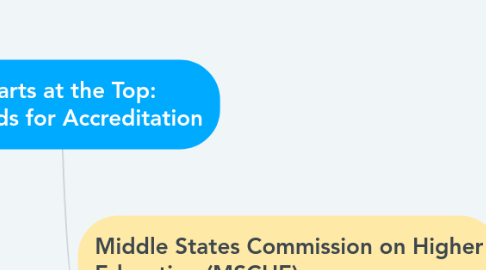 1. Middle States Commission on Higher Education (MSCHE)
1.1. Standard II: Ethics & Integrity
1.2. Standard I: Mission and Goals
1.2.1. ST. JOSEPH'S COLLEGE MISSIONS AND GOALS:
1.2.2. to offer curricula that foster the knowledge and intellectual skills associated with the liberally educated person;
1.2.3. to encourage students to develop personal value systems and responsible self-direction;
1.2.4. to foster committed participation in the local and global communities
1.2.5. to help students develop as whole persons by providing individual attention, interactive learning, and opportunities for active participation in academic and extracurricular programs;
1.2.6. to prepare students for their careers by offering the necessary professional and pre-professional education;
1.2.6.1. Program Goals:
1.2.6.1.1. Course Objectives:
1.2.6.1.2. Hands-on experience in analyzing and interpreting language transcription. Current computer software will be used to help you develop the skills needed for assessing stages in normal development.
1.2.6.1.3. The necessary skills and information to read and write about current research that relates to the practical application and theory of normal language development.
1.2.6.1.4. An understanding of the major processes supporting the development of human language. You will become familiar with both practical and methodological issues surrounding the study of child language development, including individual differences and bilingualism.
1.2.6.2. Students will identify and define communication disorders as related to organic and non-organic pathologies. (Evidence: quizzes, papers, classroom presentations, course exams)
1.2.6.3. Students will use diagnostic and intervention terminology meaningfully to produce research papers and clinical reports. (Evidence: writing rubric results, papers, clinical reports, course exams)
1.2.6.4. Students will use computer technology for diagnostic and intervention purposes, research into evidence based practice, and classroom presentations. (Evidence: classroom presentations, rubric)
1.2.6.5. Students will identify and explain issues related to multiculturalism as associated with the diagnostic and intervention process. (Evidence: papers, classroom dialect and case presentations, course exams)
1.2.7. to provide for the needs of a diversified student population with varied educational and professional experiences;
1.2.8. to foster an environment of openness to the exploration and understanding of diverse ideas, traditions and cultures;
1.2.9. to support educational programs and services that will contribute to the vitality of the communities served by the Brooklyn and Suffolk campuses.
1.3. Standard III: Design and Delivery of Student Learning Experience
1.3.1. An institution provides students with learning experiences that are characterized by rigor and coherence at all program, certificate, and degree levels, regardless of instructional modality. All learning experiences, regardless of modality, program pace/schedule, level, and setting are consistent with higher education expectations.
1.3.1.1. SJC Strategic Plan - Goal 2: Advance the College's standing as a dynamic institution committed to academic excellence integrally linked to promoting a values-oriented education.
1.4. Standard IV: Support of the Student Experience
1.5. Standard V: Educational Effectiveness Assessment
1.6. Standard VI: Planning, Resources, and Institutional Improvement