Competing on analytics
by Alex Valencia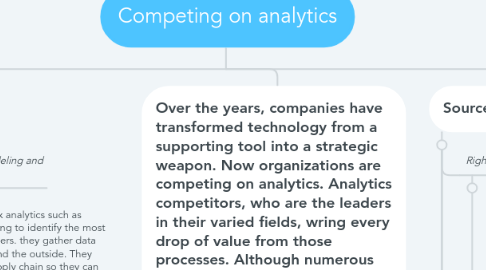 1. Key attributes
1.1. Widespread use of modeling and optimization
1.1.1. They use complex analytics such as predictive modeling to identify the most profitable customers. they gather data from the inside and the outside. They optimize their supply chain so they can simulate alternatives, route shipments, among others.
1.2. An enterprise approach
1.2.1. Multiple apps are used supporting many parts of the business and even customers and supplier. Analytics competitors treat all such activities from all provenances as a single, coherent initiative, often massed under one rubric. Analytics competitors do not use basic spreadsheet, by contrast field centralized groups to ensure that critical data and other resources are well managed and that different parts of the organization can share data easily, without the impediments of inconsistent formats, definitions, and standards.
1.3. Senior executive advocates
1.3.1. A leader with passion for quantitative approach is needed. The principal advocate is a CEO. The CEO does not need to be an expert but must understand the theory behind various quantitative methods. A CEO can hire an expert who understand the business, how analytics can be applied, someone who can explain in plain language and be trusted. However not evrery decision is based on analytics. Personnel matters, in particular, are often well and appropriately informed by instinct and anecdote.
2. Sources of strenght
2.1. Right focus
2.1.1. Analytics competitors must choose where to direct resource-intensive efforts. If there are several functions or initiatives, then it starts to diffuse. Another consideration when allocating resources is how amenable certain functions are too deep analysis.
2.2. Right culture
2.2.1. They must have Respect for measuring, testing and evaluating quantitative evidence. Employees must base their decisions on facts. R&D like other functions, is rigorously metric-driven.
2.3. Right people
2.3.1. Analytical firms pursue and hire the best analytical people. They look for people with expertise in math, statistics, and data analysis who can also speak the language of business and help market their work internally and sometimes externally. However it tend to be difficult to find a combination of analytical, business and relationship skills, which represents a barrier to the company.
2.4. Right Technology
2.4.1. Analytic companies compete on technology and push the IT frontier. They they require:
2.4.1.1. A data strategy. Companies invest on the snatch of data. The information must present it in standard formats, integrate it, store it in a data warehouse, and make it easily accessible to anyone and everyone. A company may spend several years collecting data in order to have an effective marketing campaign.
2.4.1.2. Business intelligence software. Business intelligence is used for a better decision making. These tools allow employees to extract, transform, and load data for analysis and then make those analyses available in reports, alerts, and scorecards.
2.4.1.3. Computing hardware. The volumes of data required for analytics applications may strain the capacity of low-end computers and servers.
3. Over the years, companies have transformed technology from a supporting tool into a strategic weapon. Now organizations are competing on analytics. Analytics competitors, who are the leaders in their varied fields, wring every drop of value from those processes. Although numerous organizations are embracing analytics, only some have achieved this level of proficiency.