Driving Question: What is one policy/discipline practice schools can change to reduce the school-to-prison pipeline rate?
by Hannah Bridewater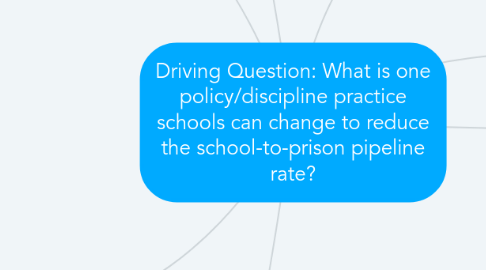 1. What is the school-to-prison pipeline?
1.1. The disproportionate tendency for students who come from disadvantaged backgrounds to become incarcerated due to harsh school/municipal policies
2. Zero-tolerance disciplinary measures
2.1. Harmful Effects include: worsening academic performance, jeopardize graduation, influence dropping out.
2.2. Overly punitive
3. Restorative Practices
3.1. A restorative response to an infraction seeks to understand the perspectives of the people involved, in order to address the effects of the offense and remedy damage done to others.
3.2. Conflict resolution by mediation/mediator
3.2.1. Involves all parties
3.3. Character and Community Development
3.4. Emotional counselor involvement
4. ISS (In School Suspension)
4.1. Students are not taught, forced to figure out work by themselves or by reading from the textbook.
4.2. Disciplinary Method used in SMCISD
4.3. Students are separated from general population
5. Core Concepts Involved
5.1. Math
5.1.1. Analyzing pertinent statistics
5.1.1.1. S.1.A The student is expected to apply mathematics to problems arising in everyday life society, and the workplace
5.1.1.2. S.1.B The Student is expected to use a problem-solving model that incorporates analyzing given information, formulating a plan or strategy, determining a solution, justifying the solution, and evaluating the problem-solving process and reasonableness of the solution
5.1.1.3. S.1. D The student is expected to communicate mathematical ideas, reasoning, and their implications using multiple representations including symbols, diagrams, graphs, and language as appropriate
5.1.1.4. S.4.B The student is expected to represent and summarize data and justify the representation
5.2. English, Language Arts, and Reading
5.2.1. Foundational Language Skills
5.2.1.1. 110.39. (c)(1)(A-D) Collaboration/Classical speeches/following complex instructions/engaging in discourse.
5.2.2. Composition
5.2.2.1. 110.39. (c)(9)(A-E) Planning/ drafting/ revision/ editing/ publishing.
5.2.3. Inquiry and research:
5.2.3.1. 110.39. (c)(11)(A-I) Questions/planning/ major research question/ locate sources/ synthesize information/ examine sources/citations/ mode of delivery.
5.3. Theatre Arts
5.3.1. Write and perform a short play
5.3.1.1. 2.C. The student is expected to portray believable characters when applying acting concepts, skills, and techniques.
5.3.1.2. 2.D. The student is expected to improvise, write, and refine monologues, scenes, and vignettes to convey meaning to the audience.
5.3.1.3. 4.A. The student is expected to portray theatre as a reflection of life in particular times, places, and cultures
5.4. Government
6. Target Project Audience
6.1. High Schoolers
7. Possible Activities/ Products