Ghosts of the Revolution
by
Uriel Fuerengel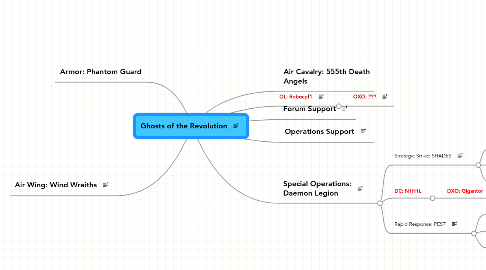 0.0
stars -
0
reviews range from
0
to
5
Ghosts of the Revolution
OL: Robocpf1 OXO: ???
Air Cavalry: 555th Death Angels
Armor: Phantom Guard
Special Operations: Daemon Legion
DL: N1H1L DXO: Gigantor
Strategic Strike: SHADES
Mission: Latice Disruption and Intelligence
DC: N1H1L
Rapid Response: PEST
Mission: Remote base caps, resecures, intercept, high value target gen holds. CO: Gigantor
Air Wing: Wind Wraiths
CO: Aks
Operations Support
CO: Alonzo
OL: Robocpf1
The Capo de Capo.  Teh Big Cheez.
OXO: ???
We might want to have an XO position for the outfit as a whole.  It doesn't have to be a DC.  It would help for any time Robo isn't online yet or goes afK.
Forum Support
These are the people who do not play, but are still important to us on the forums, like Sidar.