Child Care Interview ECH418 Group 3 Alisha Lee, Gwendolyn Billings, Christen Mcqueen, Korin Ruth
by Alisha Lee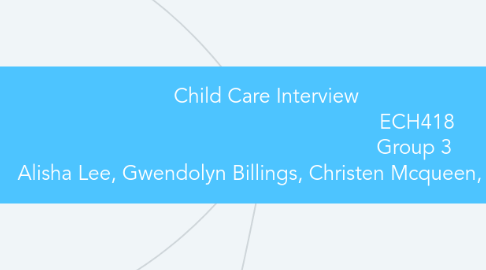 1. How to Deal with Concerned Families? By: Korin Interviewed Ms. Marge Dailey Director of Great Expectations Q. If the family has question and concerns about the program how does the daycare provide reassurance that things will be taken care of? A. When the families first come to the facility at Great expectations early learning center, they are handed a statement of services and what they do it address any question that the families might have. If there are further concerns or question then they can ask the staff and it is something that needs to be addressed at a higher level Mrs. Marge Dailey who is the owner and director for the center will find an answer to give to the family so they can better understand. Q. How do you find solution to the parent's concern? A. Mrs. Marge says that the best way that she addresses parents concern is having an open-door policy and communication. Building relationship and letting the parent know that her staff and her with find a way to resolve any kind of concerns that parents might have. Q. Who do you refer the family to when they have concerns? A. When the family has a concern with their child that is already in the classroom and attend the daycare Mrs. Marge allows the teacher to speak to the parent and let them come to an understanding and how they can resolve the situation. On the other hand, if there is still concerns then it will be addressed to Mrs. Marge who is the director of the facility and they can find out the solution that will benefit everyone that is involved.
2. How They Determine the Needs of Children and Families? By: Christen
3. How Licensing Affects The Facility? By: Alisha Lee Interviewed Ms. Crystal Hughes, Director of WEE Center at First Baptist McComb Q. How licensing affects the facility? A.She says a license agent comes to each facility multiple times a year to inspect the facility. They not only check building and health code regulations, but also caregivers, and classroom expectations. The evaluations will be posted in the daycare and available online to the public. Q. Are there certain requirements that need to be met? If so, What are they? A. She says each childcare facility is given a book of rules and regulations with different codes and requirements to follow. The licensing agent looks at classrooms, paperwork on employees and children, kitchen, playground, and all surrounding areas.
4. The Various Factors That Affect the Setting In Home Provider By: Gwendolyn Q. What are the qualifications of an in-home daycare? A. Many people feel all they must do is decide to keep children in their home and that's all they must do. However, there can be many liabilities. You need to apply for a license. According to where you live you may have to get permission to start a home day care. She stated it takes a lot of planning and preparation. You must have your home inspected to ensure that it is safe for the children that you will be servicing. And if things are not in order you must make sure there's money to get the home operational. Opening an in-home day care can take time and money therefore, when you are planning to move forward the most important advice is commitment because it is more than just keeping children. Q. What type of services do you provide for your families. A. She said she provide is quality affordable services. Even though you may only be servicing a few children she stated that she run her business like it's a major chain.