Community College Teaching
by Julie Gray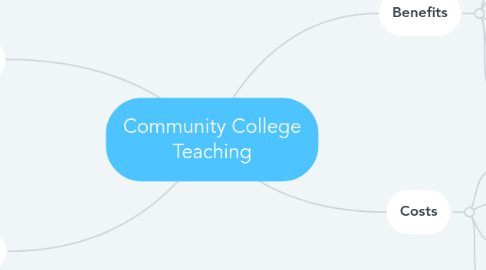 1. Benefits
1.1. Social Capital/Community Respect
1.1.1. Don't have to deal with parents
1.1.1.1. Opportunities learn, grow, and travel
1.2. Helping others achieve life goals
1.2.1. On-going challenge
1.2.1.1. Creative options
1.2.1.1.1. Self-directed work
1.3. Well Paid for teaching job
1.3.1. Benefits for self and family, including retirement pension
1.4. Time off all year long
1.4.1. Flexible schedule for kids
1.4.1.1. Nice working environment, fun colleagues, gym on campus, free classes, well-appointed office space and resources
1.5. Casual dress
2. Costs
2.1. While working, very intense and time consuming
2.1.1. Can be hard to have life balance
2.2. Sometimes quiet stressful
2.2.1. Sometimes sad and disheartening
2.3. Limited income potential
2.3.1. No matching retirement investment or stock options
2.4. Can't take time off during work periods, so not flexible travel
3. Will
3.1. I thrive knowing that my skills and abilities are used to help others
3.2. I really enjoy and am internally motivated to work finding ways to do my job better.
3.3. My family and friends support my work.
3.4. I love the growth, joy, and challenge of working with the diversity of colleagues and students each year.
3.5. I am willing and able to meet and even exceed the expectations of the job requirements.
4. Skill
4.1. I have three graduate degrees that all prepare me to help others learn well.
4.2. I have 37 years of experience working in education all over the world.
4.3. I thoroughly understand the requirements, expectations, and challenges of this work, and have developed multiple methods and strategies for facing all of them.