SEVEN HABITS OF SUCCESSFUL STUDENTS
by Araceli Carranza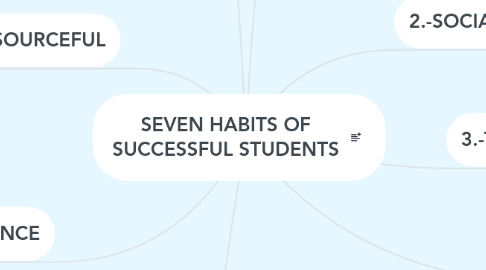 1. 1.- PASSION
1.1. One student have that discover his passion academic.
2. 2.-SOCIAL SUPPORT
2.1. The successful students use formal study grups.
3. 3.-TALK TO PROFESORS
3.1. The students must of talk with the teacher.
4. 4.-ORGANIZATION
4.1. Student need a method to do their homework and help them prepare.
5. 5.-STRATEGIC Y RESOURCEFUL
5.1. Spot habits of study to have more success in the school.
6. 6.-BALANCE
6.1. Keep energy using all the important parts of live.
7. 7.- COMMITED
7.1. Commit to have success in the bachelor university.
8. integrantes: Dominguez Perez Jose Eduardo, Carranza Barrueta Araceli y De Nova Jarramillo Brenda.