EXPLORATORY WRITING
by Alma Gutiérrez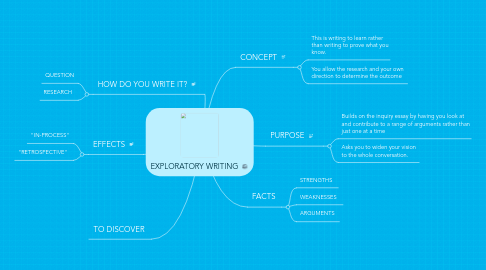 1. HOW DO YOU WRITE IT?
1.1. QUESTION
1.2. RESEARCH
2. PURPOSE
2.1. Builds on the inquiry essay by having you look at and contribute to a range of arguments rather than just one at a time
2.2. Asks you to widen your vision to the whole conversation.
3. CONCEPT
3.1. This is writing to learn rather than writing to prove what you know.
3.2. You allow the research and your own direction to determine the outcome
4. EFFECTS
4.1. "IN-PROCESS"
4.2. "RETROSPECTIVE"
5. FACTS
5.1. STRENGTHS
5.2. WEAKNESSES
5.3. ARGUMENTS
6. TO DISCOVER