Networking Advice For Those Who Struggle To Fit In
by Danny Forest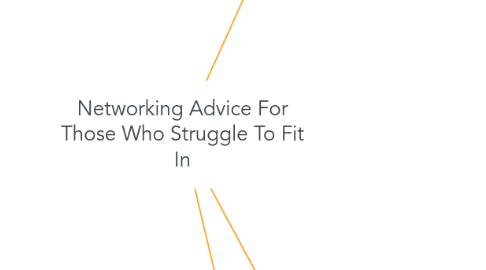 1. The Network Pre-Game
1.1. Set Networking Goals
1.1.1. What are my current dreams or desires?
1.1.2. What am I lacking that keeps me from realizing those dreams?
1.1.3. Who is the person, or type of person I need in my life to make things happen?
1.1.4. How will they help me to realize those dreams?
1.1.5. Which networks will I need to leverage to meet this person?
1.1.6. What am I hoping to gain specifically in this relationship?
1.1.7. What can I offer in return?
1.1.8. When I meet this person, what questions will I need to ask or strategies will I need to employ to draw their interest and attention?
1.2. Research
1.2.1. Is there a cost involved? Where is the event located? What time does it start?
1.2.2. What's the nature of the event? Formal or informal setting? What kind of attire is appropriate?
1.2.3. Who will be there? Will everyone from the same industry be there, or will the guest list be diverse?
1.2.4. Are there special requirements for you to attend?
1.3. Create a Strategy
1.3.1. Have plenty of business cards and pens
1.3.2. Know your elevator pitch
1.3.3. Practice remembering names
1.3.4. Be present in the moment by practicing your listening skills
1.3.5. Create a mindset of paying it forward
1.4. Know Your Key Talking Points
1.4.1. Work out an icebreaker
1.4.2. Know how to tell a story
1.4.3. Watch your body language
1.4.4. Be real
2. Time to Network
2.1. Come in Prepared
2.2. Breathe
2.3. Move Around the Room
2.4. Watch What Comes Out of Your Mouth
2.5. Spend More Time Listening than Talking
2.6. Make it About Them
2.7. Don't Rush the Conversation
2.8. Give Yourself a Timeout
2.9. Identify How You Can Be of Service
2.10. Remember to be Social
3. The Follow-Up
3.1. Tell Them What's in Store
3.2. Create a Plan
3.3. Prioritize the List
3.4. Start with a Quick Email or Call
3.5. Tout What You Can Do for Them
3.6. Reciprocate
3.7. Show Integrity
3.8. Stay Active on Social Media Once Connected
3.9. Make Things Personal
3.10. Keep in Touch