What You Need to Know About the Art of Letting Go
by Danny Forest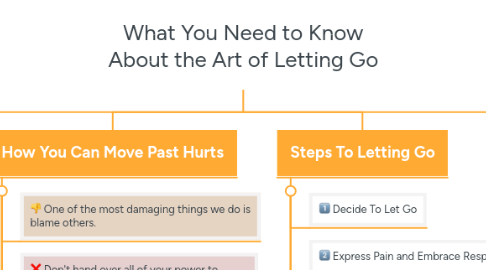 1. The Comfort Zone
1.1. It's easier to surround yourself with familiarity, and hold onto memories that keep your past failures in the present.
1.2. Comfort is what's holding you back and limiting your growth.
1.3. There's no changing the past.
1.4. Which is why the art of letting go is so important.
2. How You Can Move Past Hurts
2.1. One of the most damaging things we do is blame others.
2.2. Don't hand over all of your power to everyone else.
2.3. Your pain and dismay may very well be legitimate, but that doesn't mean you should hold on to them either.
2.4. You find your power when you let go and move on from them.
2.5. When you hold on to pain, you set up a cycle where you relive it.
3. Steps To Letting Go
3.1. Decide To Let Go
3.2. Express Pain and Embrace Responsibility
3.3. The Victim
3.4. Live in the Present
3.5. Find Forgiveness
4. Bonus Tips For Letting Go
4.1. Gain Physical Distance
4.2. Show Yourself Compassion
4.3. Accept No Apologies
4.4. Practice Self-Care
4.5. Positive People
4.6. Understanding Relationships
4.7. A Circle Of Control