BALAJI SWOT
by balaji venkataraman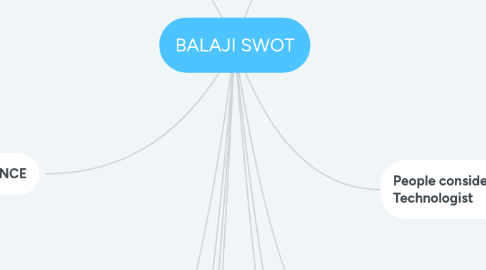 1. IDEATION AND EXECUTION
1.1. REAL TIME SALES DASHBOARDS
1.1.1. USED BY KJ AND OTHER BUSINESS LEADERS
1.1.2. GARAGE PROJECT TURNED INTO A GAME CHANGER IMPACTING CULTURE AROUND DAILY SALES FLASH
1.2. ANALYTICS PLATFORM TEAM
1.2.1. FROM DATA AS A SERVICE -> DATA + PLATFORM AS A SERVICE. Offerings like BrewKit AI RESERVE gaining traction in the field. 10+ teams like A&I, SCO, consuming our sevices. Customer success stories like DeepBrew, BatchGuidance credited to Brewkit. Working with Emerging tech and other teams.
1.2.2. Built state of the art BI tooling around platform operations. 40% cloud cost spend optimization through data which had high visibility.
1.3. Working on new ideas
1.3.1. Executive Data Room, Store Analyzer. My Leaders view as me as the GO TO person for solutions.
2. People consider me as a Technologist
2.1. Key member of the Cloud Transformation Story in BIDS
2.1.1. Highest Cloud Adoption in Starbucks. Key Influencer in the Cloud Services team. Panelist in Cloud Meetups
2.1.2. A go to person for Cloud Security, ML Engineering
2.1.3. Often consulted by peer teams in their initiatives and projects. SIPP, COP...
2.1.4. In the Product advisory board for Data bricks, other Microsoft Azure Product teams.
3. Within my group, I am seen as a Team Builder and Leader
3.1. Built an A team from ground up: Both Partners(11) and PSPS(7), operating out of two regions delivering cutting edge technology
3.2. In the last 2.5 years as manager, 5 of my team members got promoted.My current team would follow me.
3.3. Infosys: Scaled a team of architects from 10->125
3.4. Startup: Built a team from the ground up
3.5. Thrived in scenarios where I had leadership sponsorship and backing to the hilt. Struggle when lacking Skip sponsorship.
4. NETWORKING & INFLUENCE
4.1. I am able to handle and influence working teams across BIDS and outside BIDS effectively. I manage relationships with most Directors well.
4.2. Executive Influencing (VP and Above): NOT ENOUGH EXPOSURE Within Starbucks. Not sure if my leaders trust me with that. I am also not confident especially when technology is not on the table. Chicken and Egg issue. VPS and above who have exposure to my teams work ( Wouleta, Jon..) respect me.
4.3. Good at influencing people outside Meeting rooms. Need to work on Influencing large group of execs in a meeting room; Anxiety is a key issue.
4.4. Not sure if I am providing the right level of information with non-technical leaders.
4.5. Areas to improve: Managing relationships in absence of a transaction. Most relations because of a transaction.
4.6. Every glitch pushes me back to my comfort solution of being a Chef.
5. BRANDING
5.1. Do a better job at Branding my work ; than branding myself. Normally excited to see my idea making it .
5.2. Present in industry forums and have visibility for our offerings. The name BrewKit is familiar in other organizations,
5.3. Brand Balaji exists within BIDS and A&I. Surface areas in Databricks and Microsoft are other places. Need to work on Branding myself as a leader aStarbucks and in the industry.
5.4. Public Speaking : Not a natural, have to spend tons of time preparing: In my turf i am a king.
6. CARRER PLANNING
6.1. I am not planning my career well. Letting it shape by destiny. When I became a VP at my startup, or Head of Architecture for the Big Data Practice, it was because some one trusted me. I got to own my career. What does it mean?
6.2. "Don't ask and let things come to you" - attitude. Bad at asking anything for me personally. Don't negotiate anything for myself. But extremely good at negotiating for my team.
7. Career Goals at Starbucks
7.1. Near term Goal: Director of Engineering focussed on creating outcomes through Cloud, Data and Machine Learning/AI.
7.1.1. BIDS
7.1.2. Cloud Services
7.1.3. Emerging Tech
7.1.4. A&I
7.2. Develop deeper understanding of Starbucks
7.2.1. EA
7.3. 5 year goal: CTO for a product/platform/service inside or outside Starbucks
8. Inhibitor to change
8.1. My team
8.1.1. has a lot of effort into building this team. We can do great things together.
8.2. My managers
8.2.1. Comfort zone with people around me
8.3. Work-Life Balance
9. What do I need from my mentor?
9.1. Similar background: Understand my cultural baggages
9.2. Safe Space: Outside my reporting structure, outside my sphere of daily work
9.3. Has been a leader for some time and understands the journey
9.4. Ready to invest time in me, to hear my pov and give me actionable advise.
9.5. WANTS TO BE MY MENTOR
10. Other Areas of improvement
10.1. Communication with finnesse
11. EXECUTIVE PRESENCE
11.1. How do I present myself?