Management accountants express a desire for change in the functioning of internal auditing.
by Angie Diaz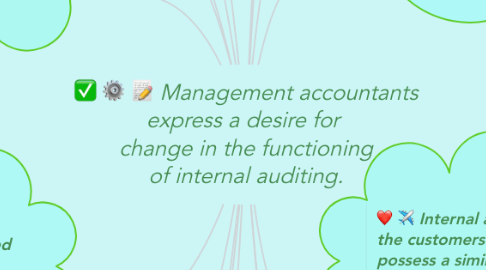 1. Management counters can work with internal auditors to improve decision-making capacity to operate managers,
2. Internal audit staff must possess business skills in a variety of areas beyond Accounting and Finance.
3. In contrast with external auditors, internal auditor independence must exist more in fact that appearance
4. internal auditors cannot allow your role as a management consultant interfere with your ability to provide independent evaluations
5. The two-tailed test can detect differences in dispersion,
6. The Kolmogorov-Smirnov test was used to identify the nature of the internal audit
7. The investigation involved six organizations and perceptions collected around 16 nature of internal audit concepts and 12 characteristics of the typical Internal Auditor
8. The perception identification Gaps provides auditors with knowledge that can be used to improve customer audit View of the role of the internal auditor.
9. The second section provides a description of the research methodology.
10. The first section discusses the expectations gap in internal auditing.
11. This research provides information that internal auditors can use to address the concerns of management accountants
12. The profession of internal auditing has long struggled with how to achieve the most effective relationship between internal auditors and audit customers
13. to the internal auditor who recognizes a danger that is ignored because of an overemphasis on production objectives.
14. Internal auditors and the customers of audit services should possess a similar understanding of what makes internal auditing a value-added activity.
15. One of the most significant studies in this area is a research report prepared for The Institute of Internal Auditors by Frederic E. Mints (1972).
16. Mints's research considered auditor relationships with audit customers by conducting laboratory experiments
17. The expectations gap in internal auditing