What Do You Love About Real Estate?
by joel gardea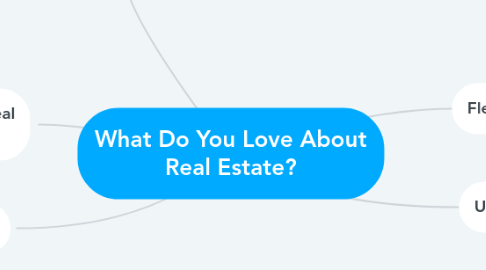 1. Flexible Schedule
1.1. "Real estate provides a path to financial freedom, a flexible schedule, and the personal fulfilment of helping families own their home." – Denny G.
2. Unlimited Income Potential
2.1. "I am ready to finally have a Real estate career in where income has no limits." – Theda D.
3. Passion and Interest in Real Estate
3.1. "I have always been interested in matchmaking and exploring homes. I realized that the two were not mutually exclusive." – Cindy C.
4. Be Your Own Boss
4.1. "I'm interested in the real estate profession because I want to become my own boss." – Erica S.
5. Work With People
5.1. "I love the look on people's faces when they walk into their home for the first time." – Chanell H.