INSTRUCTIONAL DESIGN
by Myra Natasya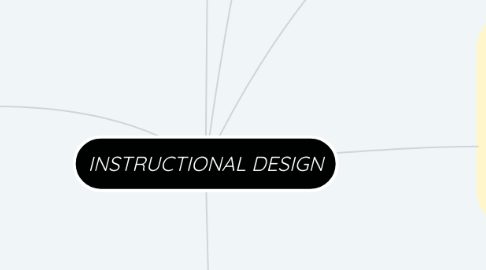 1. WHO
1.1. Who Uses ID? - Teachers - Instructors - Lecturers - Facilitators - Tutors - Target groups - Learners
2. WHAT
2.1. What is ID? - Instructional Design, ID, is a systematic process, based on educational theories, on the development of instructional strategies, and specifications to promote quality learning experience. -Knowledge of how people learn, the available tools, how to apply those tools, and to engineer a plan to enhance the teaching and learning experience.
3. HOW
3.1. ADDIE
3.1.1. ANALYSIS - Analyze the current situation in terms of training, knowing gaps etc. - Start with a series of questions to understand the current situation and the goal of the training. - Generate a training plan that addresses who, what, when, where, why and how.
3.1.2. DESIGN - To make practical decisions. - Includes strategy, delivery methods, structure, duration, assessment and feedback.
3.1.3. DEVELOPMENT - Create the courses, add detail and polish to the course. - Adding graphics, choosing colors and deciding fonts. - Process should be iterative, test it out and make sure there are no errors (grammar, spelling, syntax)
3.1.4. IMPLEMENTATION - Share with the learner - Instructional designer should monitor the situation for any teething issues.
3.1.5. EVALUATION - Getting feedback
4. WHERE
4.1. Online
4.2. Offline
4.3. Blended Learning
5. WHEN
5.1. Distance education session
5.2. In class session
6. WHY
6.1. Why Do You Need To Use An Instructional Design Model? - To save money - Find possible gaps in the content