Instructional Design
by Amirah Zf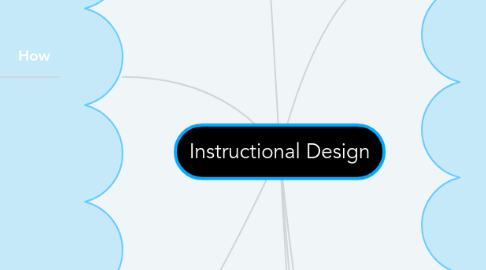 1. What
1.1. Models
1.1.1. Other Models
1.1.2. ADDIE
1.1.2.1. Analysis
1.1.2.1.1. Learning Environment Analysis
1.1.2.1.2. Learner analysis
1.1.2.1.3. Instructional Content Analysis
1.1.2.2. Design
1.1.2.2.1. Strategies
1.1.2.3. Development
1.1.2.3.1. Strategies
1.1.2.4. Implementation
1.1.2.5. Evaluation
1.1.2.5.1. Formative Evaluation
1.1.2.5.2. Summative Evaluation
1.1.3. ROPES
1.1.3.1. Review and Relate
1.1.3.2. Overview
1.1.3.3. Present and Practice
1.1.3.4. Exercise
1.1.3.5. Summarize
1.2. Definition
1.2.1. A systematic process, based on educational theories, on the development of instructional strategies, and specifications to promote quality learning experience.
1.2.2. Knowledge of how people learn, the available tools, how to apply those tools, and to engineer a plan to enhance the teaching and learning experience
2. Why
2.1. For educators
2.1.1. provides guidelines to organize appropriate pedagogical scenarios to achieve instructional goals
2.1.2. creating instructional experiences to help facilitate learning most effectively
2.1.3. help trainers and educators to guide and plan overall process.
2.2. For Learners
2.2.1. able to differentiate where they are and where they want to be
2.2.2. connect what they know to what they learn
2.2.3. become active participants in the learning process
2.2.4. get feedback on their attempts at learning
3. Where
3.1. Lecture rooms
3.2. Studios
3.3. Learning Spaces
3.4. Labs
3.5. Networked Computer
3.6. Mobile
3.7. Maker space
4. How
4.1. Tools
4.1.1. Internet
4.1.2. Email
4.1.3. Directory of experts
4.1.4. Library on-line
4.1.5. Databases
4.1.6. Online Forum Learning
4.1.7. Learning management system
4.1.8. Other web resources
4.2. ADDIE
4.2.1. Analysis
4.2.1.1. Learner Analysis
4.2.1.1.1. Intended audience and their characteristics
4.2.1.1.2. Identify new behavioral outcome
4.2.1.2. Learning Environment Analysis
4.2.1.2.1. Learning Constraints
4.2.1.2.2. Resources
4.2.1.3. Instructional Content Analysis
4.2.1.3.1. Timeline for Project Completion
4.2.1.3.2. Instructional Goals
4.2.2. Design
4.2.2.1. Learning Objectives
4.2.2.1.1. Define specific, measurable actions in order for learners to achieve the intended instructional goals
4.2.2.2. Instructional Strategies
4.2.2.2.1. subject matter analysis
4.2.2.2.2. content
4.2.2.2.3. lesson planning
4.2.2.2.4. media selection
4.2.2.2.5. exercises
4.2.2.3. Testing Strategies
4.2.2.3.1. assessment instruments
4.2.3. Development
4.2.3.1. Learning Resources
4.2.3.1.1. Based on the materials designed and strategies identified in the 'Design' phase
4.2.3.2. Validation
4.2.3.2.1. review
4.2.3.2.2. revision
4.2.3.3. Pilot Test
4.2.3.3.1. feedback/evaluation is used to improve final product before implementation
4.2.4. Implementation
4.2.4.1. Preparation
4.2.4.1.1. Facilitator training
4.2.4.2. During the event
4.2.4.2.1. Constant feedback and insights are given to help improve event as it runs
4.2.4.2.2. New and improved ideas or resources try to be implemented as soon as possible
4.2.5. Evaluation
4.2.5.1. Formative Evaluation
4.2.5.1.1. present in each stage of ADDIE process
4.2.5.2. Summative Evaluation
4.2.5.2.1. overall evaluation
4.2.5.2.2. usually done in 3 levels
5. Who
5.1. Educators
5.2. Learners
6. When
6.1. During class
6.1.1. To enhance learning experience
6.1.2. To facilitate learning