Unleash Your House Database with Lead Nurturing
by
melvin ram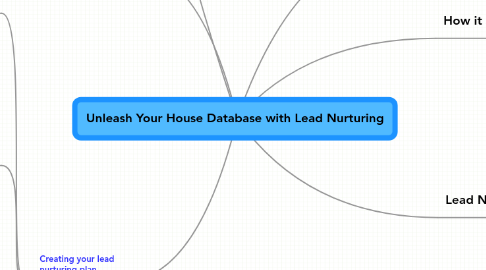 0.0
stars -
0
reviews range from
0
to
5
Unleash Your House Database with Lead Nurturing
What people usually do
"feast or famine" lead gen
< 25% are sales ready
< 5% have active opportunity
Remaining get dumped into lead nurturing
semi-regular newsletter
random acts of marketing
> 25% are disqualified
How it should be: lead nurturing
Build relationships regardless of buying cycle
Not a process but a conversation
Start Nurturing from Incoming Form
0. Lead enters DB from web, tradeshow, etc
1. Fulfill Campaigns
Fulfil
Wait 11 mins
Send targeted html-text e-mail, from lead ower, customized to behavior, Is html but looks like text
2. Assign to Nurturing Path
Marketing
Sales
3. Start Nurturing
Wait 3 days
Send E-mail #1, Marketing or Sales, Gives offer to accelerate
Lead Nurturing
Why do I care?
50% of leads are not ready to buy
LN = more leads passed to sales
LN = lower cost per sales lead
LN = more from existing leads
What is LN?
Building relationships with the 50% not ready to buy, how to start conversations with them, How to listen to know what your leads want & know when they are ready
What is not LN?
Random acts of marketing
Monthly newsletter
Long emails
Too much, too soon
All about me
A better way to LN
Make it valuable to them
Make it bite-sized
Use customer examples
Use a personal touch
Creating your lead nurturing plan
Define stages
Define revenue cycle stages, Sample, Inquiry, Prospect, Pre-qualified lead, Sales-Ready Lead, Opportunities, Sales
Define buyer profiles
Example, Marketing, Sales, CMOs, Agencies
Customize content for profiles
Content
Define content by prospect stage, Early, Need: Education, What: Know they have pain. don't know whats available., Reach: online demos, white papers, ebooks, webinars, Mid, Need: Targeted info, Reach: seminars, live demos, technical white papers, What: Know the solution types, but need info about companies & solutions., Late, Need: Answers, Comparisons, Free Trials, Case Studies, Consults, Pricing, What: Narrowing the field, getting ready for bake-offs, RFPs.
Timing
When?, When someone enters your lead db
How long?, As long as they remain in db
How often?, Depends on content & audience., Error on the side of caution
Give option to Accelerate, Same content by faster
Reporting
Which emails work better than others
What
% viewed
% clicked
Lead Source
Days to close