THE EMERALD ISLAND
by Gaia casucci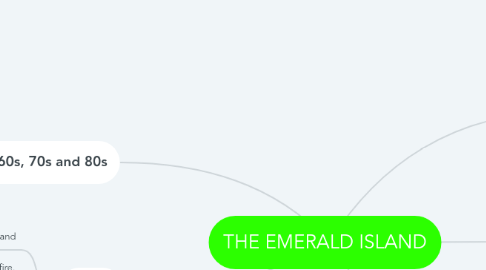 1. 1541
1.1. Henry VIII took control of the country and made it an English colony.
1.1.1. English protestant moved to Ireland and took land from the local Catholic population.
2. 20th century
2.1. The Irish Republican Army was founded in Ireland.
2.1.1. The IRA wanted inidpendence from Britain and they decided to use violent method.
2.1.1.1. 1916= there was a large rebellion in Dublin. About 450 people were killed during Easter Rising.
3. 1922
3.1. The Republic of Ireland was given indipendence from Britain.
3.1.1. The island was divided into two different countries.
3.1.1.1. The North, with a large Protestant population, remained British.
3.1.1.2. British soldiers stayed in Northern Ireland to keep the peace between Protestants and Catholics there
3.1.1.3. The IRA didn't want any British soldiers in Ireland, and they wanted Ireland to be united again.
4. 1960s, 70s and 80s
4.1. There were terrorist bomb atttacks by the IRA in Northern Ireland and in England.
5. 1990s
5.1. Peace came to Northern Ireland
5.2. In 1994, the IRA agreed to a ceasefire.
5.3. In 1998, the Good Friday Agreement gave Northern Ireland its own parliament.
5.4. A new period of peace and stability began.