The Three Essential Life Skills Parents And Teachers Never Taught You
by Danny Forest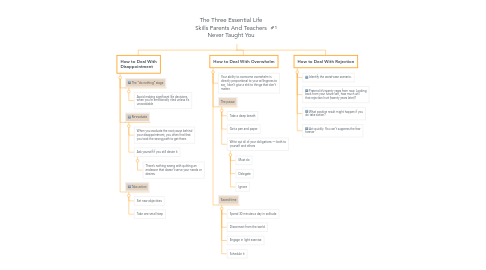 1. How to Deal With Disappointment
1.1. The "do nothing" stage
1.1.1. Avoid making significant life decisions when you're emotionally riled unless it's unavoidable
1.2. Re-evaluate
1.2.1. When you evaluate the root cause behind your disappointment, you often find that you took the wrong path to get there.
1.2.2. Ask yourself if you still desire it
1.2.2.1. There's nothing wrong with quitting an endeavor that doesn't serve your needs or desires
1.3. Take action
1.3.1. Set new objectives
1.3.2. Take one small step
2. How to Deal With Overwhelm
2.1. Your ability to overcome overwhelm is directly proportional to your willingness to say, I don't give a shit to things that don't matter.
2.2. The pause
2.2.1. Take a deep breath
2.2.2. Get a pen and paper
2.2.3. Write out all of your obligations — both to yourself and others
2.2.3.1. Must do
2.2.3.2. Delegate
2.2.3.3. Ignore
2.3. Sacred time
2.3.1. Spend 30 minutes a day in solitude
2.3.2. Disconnect from the world
2.3.3. Engage in light exercise
2.3.4. Schedule it
3. How to Deal With Rejection
3.1. Identify the worst-case scenario.
3.2. Pretend it's twenty years from now. Looking back from your future self, how much will that rejection hurt (twenty years later)?
3.3. What positive result might happen if you do take action?
3.4. Act quickly. You can't suppress the fear forever