Want to Move Faster Than Your Peers? Embrace Negative Feedback
by Danny Forest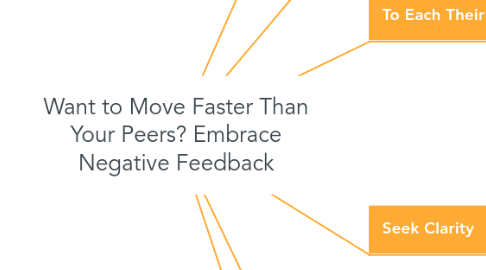 1. Choose Who You Get It From
1.1. Take control of the process.
1.2. Choose who you want to give it.
1.3. Find the people who give you feedback you can trust
1.4. Make sure have the required knowledge/expertise
1.5. Start with a simple "hey, any thoughts on this? Don't hold back"
2. Reflect, Not Retaliate
2.1. Don't be defensive
2.2. Process the comments
2.3. Save your talking till it's over.
3. To Each Their Own
3.1. Opinions are subjective, and tastes are personal.
3.2. Don't get offended when feedback gets personal.
4. Seek Clarity
4.1. Ask
4.1.1. "Show me exactly what you mean by that comment?"
4.1.2. "When you say that you don't understand this part, what about it isn't clear?"
4.1.3. "You said it doesn't appeal to your demographic, in what way?"
4.2. Make a conversation rather than an argument
4.3. Focus on specifics and hone in on some finer details.
5. Reflect And Respond
5.1. Examples
5.1.1. "That's a great point. What would you do to solve that?"
5.1.2. "If I were to implement that, what do you think would happen to this?"
5.1.3. "If we changed the aspect you suggested, why do you think it would be a better fit for the target market now?"
5.2. Move the conversation away from critique and towards the future iterations of your work.
6. Show Your Appreciation
6.1. Whether or not you agree with their comments, make them feel like you are grateful for their thoughts.