Classification and Labeling of Hazardous Chemicals CPL Regulation 1997
by Anis Fatina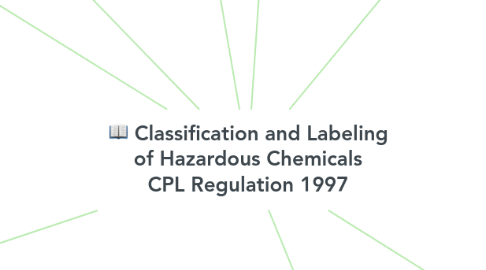 1. APPLICATION
1.1. To a supplier of hazardous chemicals for use at work except:
1.1.1. Radioactive material under the Atomic Energy Licensing Act 1984
1.1.2. Pesticides under the Pesticides Act 1974
1.1.3. Poisons in the Poisons List Order 1993 except those classified as industrial and laboratory poisons
1.1.4. Drug under the Sales of Drugs Act 1952
1.1.5. Scheduled wastes in the First Schedule of the Environmental Quality (Schedule Wastes) Regulation 1989
1.1.6. Foodstuff
1.2. Shall Not Apply to:
1.2.1. Transportation of hazardous chemicals by rail, inland waterway, sea of air
1.2.2. Hazardous chemicals in transit which are stored at a bonded warehouse
2. REGULATION 6: Seal of Package
2.1. A supplier shall ensure that packages are initially closed with a seal in such a way that once the packages are opened, the seals are broken and could not be repaired.
3. REGULATION 7: Labeling
3.1. A supplier shall ensure that every packaging is labelled clearly and indelibly with the following information:
3.2. (a) the name of the hazardous chemical in accordance with the internationally recognised nomenclature;
3.3. (b) the name, address and telephone number of the supplier;
3.4. (c) the danger symbol and indication of danger as specified in Schedule II;
3.5. (d) the nature of the special risk associated with the use of the chemical as specified in Schedule III;
3.6. (e) the safety precautionary measures as specified in Schedule IV.
4. REGULATION 9: Duty of Supplier to Furnish Chemical Data Sheet
4.1. 1) A supplier shall furnish an up-to-date Chemical Safety Data Sheet for each hazardous chemical supplied.
4.2. (2) The Chemical Safety Data Sheet shall contain the following information:
4.3. (3) The supplier shall review and revise the Chemical Safety Data Sheet from time to time when new information on a particular hazardous chemical becomes available.
4.4. (4) All information required on a Chemical Safety Data Sheet in pursuance of subregulation (2) shall be written in the national language and English.
5. REGULATION 4: Duty of Supplier to Classify
5.1. (1) It shall be the duty of a supplier to classify hazardous chemicals according to the specific nature of the risk involved based on the categories of hazards in Schedule I.
5.2. (2) Chemicals which fall within more than one category of hazard in Parts A and B of Schedule I shall be classified under the category which poses the greatest degree of hazard in each Part.
6. REGULATION 5: Packaging Requirements
6.1. A supplier shall ensure that the hazardous chemicals are supplied in packaging which satisfies the following requirements:
6.1.1. (a) if the packaging is a container, the container shall be so designed and constructed that its contents cannot escape unless there is a requirement for safety devices to be fitted into the container;
6.1.2. (b) the materials constituting the packaging and the fastenings are not susceptible to adverse attack by the contents therein orliable to form harmful or dangerous compounds with the contents;
6.1.3. (c) the packaging and fastenings are strong and solid throughout to ensure that they will not come loose and will safely meet the nomad stress and strain of handling;
6.1.4. (d) containers fitted with replaceable fastening devices are so designed that the packaging can be repeatedly fastened without the contents escaping
7. 10 REGULATIONS
8. 5 SCHEDULES
8.1. SCHEDULE I: HAZARDOUS CHEMICALS AND PREPARATIONS
8.1.1. Part A: Classification based on physicochemical properties
8.1.2. Part B:Classification based on health effect
8.2. SCHEDULE II: DANGER SYMBOLS AND INDICATION OF DANGER
8.3. SCHEDULE III: RISK PHRASES
8.4. SCHEDULE IV: SAFETY PHRASES
8.4.1. A. Indication of Safety Precautions
8.4.2. B. Combination of Safety Precautions
8.5. SCHEDULE V: DIMENSION OF LABEL