The basic function of Archives Administration
by Jecilyn Joyce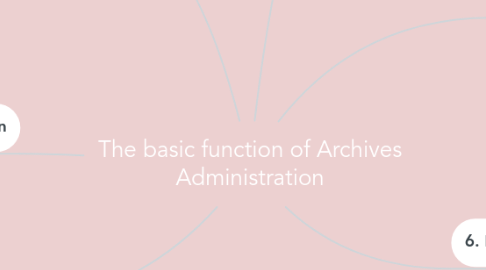 1. 1. Appraisal
1.1. Determind the value of records
1.2. An estimate or considered opinion/value of the quality.
2. 2. Accessioning
2.1. Process of transfering.
2.2. involve legal, physical, intelectual
3. 3. Preservation
3.1. Process to maintain,repair,protecting or keeping something
4. 4. Arrangement & Description
4.1. Process to determine suitable method in arranging materials.
5. 5. Access and Use
5.1. All archives that have been appraised will be evaluated and selected for public access and use.
5.2. Archives can be use to gatherfirsthand facts,data and evidence from letters, reports, notes and others.
6. 6. Reference and staff services
6.1. Archives officers - proper training in administrating.
6.2. Helps to seek attention of public awareness on archives services.