The Support Team
by John Reynard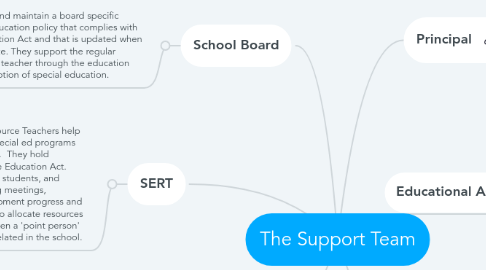 1. Educational Assistants
1.1. Front line staff that can work hands on to support students physically, intellectually, or emotionally. They can relay valuable information/assessment on student progress to the teacher/support team that the teacher might not always be able to witness. Can support students with any level of needs.
2. Specialists
2.1. Students are often referred to specialists that research, study, and provide solutions to specific learning barriers. Some of these specializations include: behaviour, mental health, speech, language, hearing, vision, ASD. Specialists are often called upon when teachers need advice or support that is beyond their capabilities.
3. SERT
3.1. Special Education Resource Teachers help to oversee and lead special ed programs and services in schools. They hold qualifications under the Education Act. They support teachers, students, and parents by moderating meetings, monitoring IEP development progress and assessment, and help to allocate resources and staff. They are often a 'point person' for all things spec ed related in the school.
4. Principal
4.1. Help to oversee special education. Ensure that appropriately qualified staff are assigned to special education roles. Help to moderate and assist with parent-teacher meetings, IEP development, IPRC requests, and concerns from staff, parents, and teachers.
5. School Board
5.1. Develop and maintain a board specific special education policy that complies with the Education Act and that is updated when appropriate. They support the regular classroom teacher through the education and promotion of special education.
6. Child and Youth Worker
6.1. This body helps to support students in and out of the classroom. They often address issues that stretch beyond the classroom and can relay information or advice to the teacher and other support teams.